China has world's best ever 5G frequency
People's Daily Online
1564069222000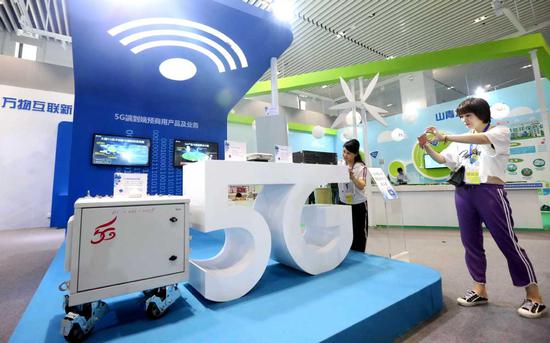 A booth showcasing 5G technology is pictured at an industry expo in Beijing. (Photo by Chen Xiaogen/China Daily)
China has the best ever 5G frequency in the world, said Zhang Yunyong, president of the China Unicom Research Institute in a live streaming program broadcasted Tuesday.
According to Zhang, China's 5G frequency has covered the best-quality spectrum in low, medium and high bands, thus enjoying natural development advantages.
As the country is speeding up the construction of 5G base stations and digging into the value of the next-generation communication, Chinese citizens will be able to experience 5G services and the convenience it brings in the second half of this year, Zhang said.
According to him, 5G is not just a faster communication technology, but something that transforms people-to-people and people-to-things communication into one that connects people, machines and things.
The communication expert pointed out that 5G will become an important driving force for China's economic growth, and 5G-powered GDP might even account for half of the country's economy.
"5G can change our life, society, and industries, and it promotes economic development," Zhang noted.
5G technology enjoys three major advantages: low time delay, large band width and wide connection. These advantages allow the technology to realize remote medical services, super high-definition broadcasting, smart cities, infrastructure interconnectivity, and more.
According to him, China has a very high dense network of 5G base stations that covers 97 percent of its population and 98 percent of its territory.