Green light on 5G commercial use to fast-track China's connected future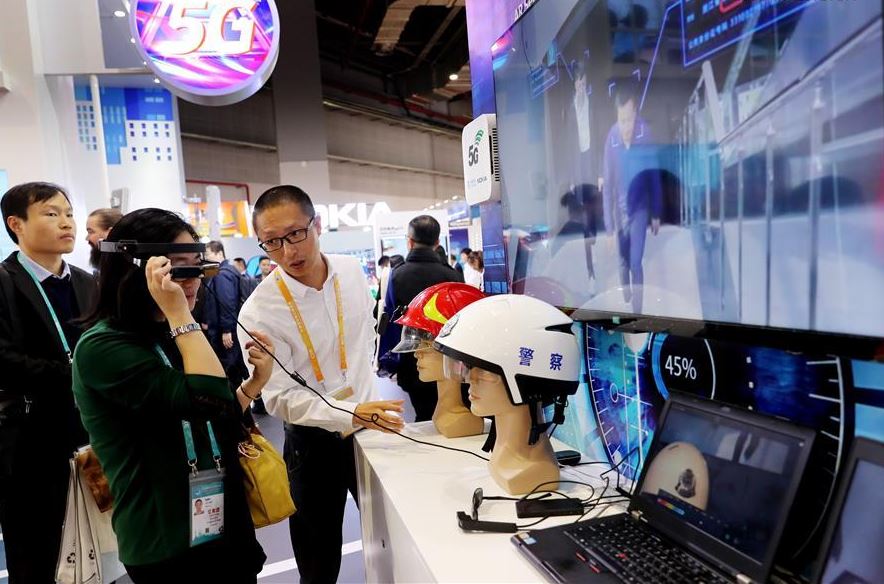 A visitor tries out an AR security device based on Nokia's 5G technology at the First China International Import Expo in Shanghai, East China, November 5, 2018. (Photo: Xinhua)
BEIJING (Xinhua) -- China officially approved 5G commercial services Thursday, marking the start of a smart new era as the application of the superfast wireless technology helps connect more things, services and market players.
The Ministry of Industry and Information Technology (MIIT) granted commercial-use 5G licenses Thursday to China Broadcasting Network and the country's top three telecom operators -- China Telecom, China Mobile and China Unicom.
A SMART FUTURE
5G can be about 100 times faster than the current 4G technology.
"It's like rocket speed," said Lin Jun, an insurance salesman who experienced the technology in the country's first 5G telecom service hall in downtown Beijing by downloading a 1.5-hour high-definition movie in just four seconds.
"Playing mobile games is also so smooth," Lin added.
In addition to enhancing the experience for personal use, 5G will help make public life in education, medical services and other fields, as well as the industrial sector, smarter as local governments and firms expedite the development and application of the technology.
Some metro lines in places including Beijing and Zhengzhou are now covered with the 5G network, while doctors in Shanghai and Guangdong are using 5G to help carry out diagnosis and even operations.
China Mobile said it plans to offer 5G services in over 40 cities by the end of September.
The technology's commercialization might generate 10.6 trillion yuan (about 1.53 trillion U.S. dollars) worth of direct economic output and over 3 million jobs from 2020 to 2025, according to a report by the China Academy of Information and Communications Technology (CAICT).
THE CHINA EDGE
A latecomer in most of the previous mobile communications technologies, China has seen leapfrogging development in 5G technology.
China was a pioneer in conducting 5G technology research and development (R&D) and has been accelerating the R&D and industrialization of 5G equipment in recent years.
The country ranks among the top echelon worldwide in 5G medium frequency band equipment, terminal chips and smartphones, according to Gong Daning, a senior engineer with the CAICT.
Chinese companies had topped the global rank in terms of the number of 5G standard essential patent applications by May, accounting for over 30 percent of the world's total.
Analysts attribute China's fast progress in 5G technology to Chinese firms' heavy R&D spending, the country's increasingly sound mobile communications industrial chain and an expanding market.
China's 5G industry has built a competitive edge by combining independent innovation and open cooperation, the MIIT said.
A SHARED MARKET
Foreign enterprises including Nokia, Ericsson, Qualcomm and Intel have been deeply involved in the experiment of the technologies, and China's 5G is ready for commercial use thanks to the joint efforts from various parties, according to the MIIT.
China launched a 5G promotion team in 2013, which included many foreign enterprises to conduct joint research and tests, according to Gong.
China, as always, welcomes enterprises at home and abroad to actively participate in the building, application and promotion of its 5G network and share the sector's development dividends, said Miao Wei, head of the MIIT.
"The success of 5G comes from close coordination within the industrial chain, and we are prepared to offer full support to the commercialization of 5G technologies in China," Qualcomm China Chairman Meng Pu said in a statement.
The company will further integrate with China's related industries and expand partnership ecosystem to share opportunities and empower each other for a connected smart future, Meng said.
The green light is good news for the Chinese and global related markets, as China's huge market scale will benefit the development of global 5G and mobile communications ecosystem, according to Zhao Juntao, president of Ericsson China.
"We have been looking forward to this day, as it will offer fresh opportunities for us all," Zhao said.