China-made trains enter service in Istanbul's new metro line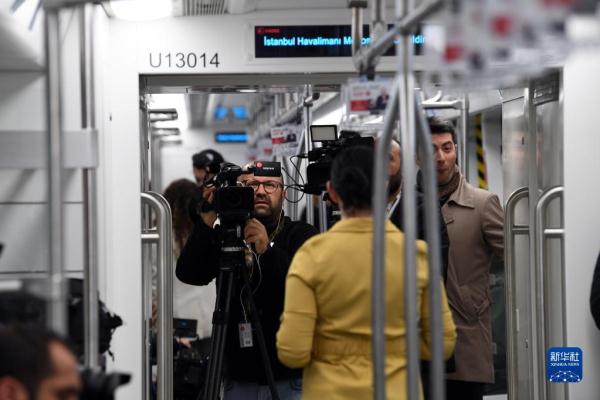 A new metro line connecting central Istanbul and the city's new international airport officially opened to the public on Sunday, featuring China-made automated driverless trains that could run up to 120 kilometers per hour.
"This 800,000 daily capacity metro line will allow travel from Kagithane Station to the Istanbul Airport in 24 minutes," said Turkish President Recep Tayyip Erdogan during the opening ceremony.
The fully-automated, driverless trains were built by Chinese company CRRC Zhuzhou Locomotive Co., Ltd. (CRRC ZELC), which signed a purchase and commissioning contract with Türkiye's Directorate-General of Infrastructure Investments back in January 2020.
The 34-kilometer metro line between the Kagithane Station in central Istanbul and the city's new international airport boasts Türkiye's fastest trains, and the vehicles running the line are China's first 120km/h automated driverless metro project for the overseas market, according to CRRC ZELC.
The contract was for 176 subway cars and required a 60 percent localization rate in Türkiye.
Haluk Oguz, a management specialist at CRRC ZELC's subsidiary in Türkiye, told Xinhua that they have delivered 40 vehicles. "Work on the other 136 is ongoing," he said, adding "they will be manufactured at our factory in Ankara."
Faruk Bostanci, administrative affairs chief at CRRC Türkiye, said that "new additions (to the line), which will be made as manufacturing continues, will increase the train frequency and provide a faster, more convenient transportation network for Istanbul residents."
After trying out the train, Istanbul resident Emirhan Ersoy praised the new vehicles. "Both the heating system and the visual screens are very nice, and the sound system works very well," he said, adding that the high capacity of the cabins was another point of distinction.
The vehicles operate in a 4-car formation with a maximum capacity of 1,100 passengers. The exterior of the trains is decorated with Turkish cultural elements such as tulip motifs.
Yalcin Eyigun, general manager of the Directorate-General of Infrastructure Investments at Turkish Transportation and Infrastructure Ministry, praised the Chinese partner for overcoming all kinds of difficulties during the project despite the COVID-19 pandemic-related setbacks.
Over the past decade, CRRC ZELC has supplied more than 400 metro vehicles to Türkiye, which are now operating in its three largest cities, namely Istanbul, Ankara, and Izmir.
Zhou Qinghe, chairman of the board of the CRRC ZELC, said that his company is willing to strengthen cooperation with Türkiye and write new chapters of "shared growth through discussion and collaboration."