Chinese innovation has visible impact on supercomputing conference
FRANKFURT, June 19 (Xinhua) - Technological innovation of Chinese companies is making a visible impact at a global supercomputing conference, where practitioners found international cooperation important for the future of supercomputers.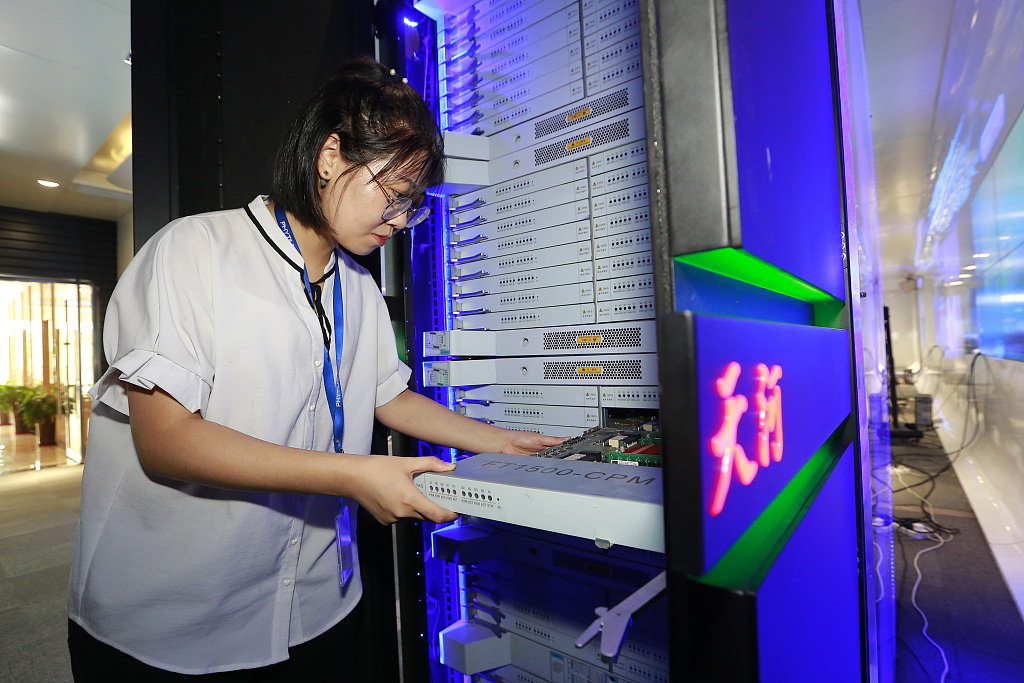 (File photo: VCG)
The 2019 ISC High Performance conference and exhibition, which opened Monday in Frankfurt, attracted more than 3,300 practitioners and researchers, as well as 160 exhibitors, including Chinese companies Huawei, Lenovo, Inspur and Sugon.
Leading supercomputer manufacturer Sugon showcased their new generation of Silicon Cube high performance computer (HPC) for the first time in Europe, attracting large crowds at their booth.
"In recent years, more and more foreign professionals come to take a look at Chinese systems on these conferences," said Ji Qing, chief scientist of Sugon's HPC products division.
With Sugon's new liquid cooling technology, the machine's energy consumption could be saved up to 40 percent, to have the same computational power as before. Its structure also supports various kinds of applications, according to Ji.
Alexey Shmelev, COO of Russian supercomputer company RSC Group, was visiting Sugon's booth. He praised Chinese experts for their professionalism and expertise. "We can be really very useful to each other because we have complementing technologies. This can help us to create new designs and new products which will be interesting and competitive all over the world." He said.
Huawei has brought three computing platforms and innovative HPC solutions based on five in-house chips to this year's conference. The company is in an ideal position to provide customers with HPC solutions of "best-in-class performance and efficiency," according to the exhibitor.
China now claims most supercomputers of the TOP500 list, which is compiled twice a year with the latest released Monday at the ISC 2019. China has 219 systems, followed by the United States, with 116, and Japan, with 29. In terms of vendor shares, Lenovo provided the greatest number of systems on the list, followed by Chinese peers Inspur and Sugon.
Erich Strohmaier of Lawrence Berkeley National Laboratory, U.S., also co-author of the TOP500 list, said he was impressed by the tremendous progress made by the Chinese community over the past few years, as shown in the list. He said the concerted effort will "put China on the international stage as a primary producer and consumer of supercomputing systems."
Strohmaier noticed big Chinese companies who are active in this field started producing a large number of supercomputing systems and selling them, although predominantly inside of China, but "it's only a question of time" before they sell them to overseas market as well, like Lenovo is doing.
Experts agreed international cooperation will be key to the future of supercomputing and Chinese researchers and companies are already engaged in such projects.
Sugon Slovenia supercomputing center started operation in 2016 and has provided support for local research and education, according to Ji Qing.
Lu Yutong, director of the National Supercomputing Center in Guangzhou, south China and Program Chair of the 2019 ISC, said supercomputing is an integrated application of hardware, software, storage and connection technologies.
"To build the fastest system, it requires each part to be the most advanced. That means more exchanges between peers are needed to foster a prosperous global supercomputing community," she said.