China's Beidou system enhances life standards
chinadaily.com.cn
1566486701000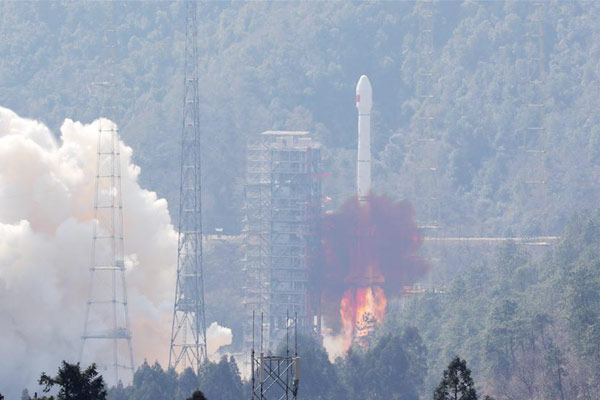 China sends two satellites into orbit on a single carrier rocket for its domestic BeiDou Navigation Satellite System (BDS) in Xichang, Southwest China's Sichuan province, Feb 12, 2018. [Photo/Xinhua]
The Beidou system, a satellite navigation system independently innovated and operated in China, is leading Chinese citizens to a better life with its significant roles in agriculture, transportation and disaster relief, according to a report from Xinhua.
It has been applied in key national industries and the mass consumer field, an official at the 10th China Satellite Navigation Annual Conference said. The first beneficiary is China's agricultural development.
"There was no satellite navigation in the 1950s. People would farm little by little with pickaxes," said Peng Rongjun, head of a State-owned farm in Northeast China's Heilongjiang province.
However, the introduction of the Beidou system has changed everything: Not only have manual efforts been saved, but work efficiency has improved.
Now the positioning precision has improved to 2.5 centimeters, and the average daily volume of a single agricultural machine has achieved a remarkable leap to 30 percent more than that of traditional ways.
Apart from agricultural contributions, the Beidou system also has a wide prospects in its development and applications in the transportation field.
By April, over 6.2 million operating vehicles and 30,000 postal and express vehicles, about 80,000 buses, over 3,200 inland waterways and 2,900 maritime navigation facilities have applied the Beidou system for navigation, according to a report on the Beidou system's construction and development.
In the newly-established Beijing Daxing International Airport, Beidou has been used to keep track of loading and unloading vehicles indoors and outdoors. Each baggage cart will be equipped with Beidou navigation and positioning facilities to help passengers get their luggage faster and to reduce loss.
In addition, the Beidou system can promote disaster-relief work in China, especially in western remote areas where basic network construction relatively falls behind.
This can be achieved mainly thanks to the Beidou system's unique skill of short message communication, according to Yang Yuanxi, an academician of the Chinese Academy of Sciences and deputy chief designer of Beidou satellite navigation system engineering. Yang added that it enables users to send 120 word messages and their location in areas where communication signals cannot reach, such as on the ocean or in deserts.
He added the Beidou system is the first and only system in the world that integrates communication and navigation.
On Sept 19, 2018, the 13th and 14th satellites of the Beidou-3 system were launched, which loaded search and rescue equipment meeting international standards for the first time, Yang said.
Last month, China successfully launched the 21st Beidou navigation satellite of the Beidou-3 system from the Xichang Satellite Launch Center, according to the latest report.