5G services launched in Tian'anmen Square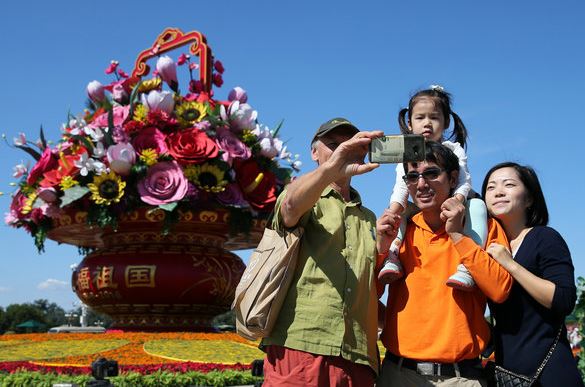 A file photo shows tourists taking selfies at Tian'anmen Square in Beijing. (Photo: China Daily)
With the official opening of several 5G sites, Tian'anmen Square has officially entered the 5G era, taking the lead in upgrading to become a 5G intelligent square, Beijing Youth Daily reported on Tuesday.
China Unicom took the lead in realizing the full coverage of the square's 5G signal, and these 5G stations will also serve the China Media Group 5G and high-definition news coverage of the two sessions for the first time.
The Beijing branch of China Unicom said the Tian'anmen Square is not only historically and politically significant, but also a venue for the country to hold major celebrations, grand gatherings and foreign affairs activities to welcome guests. Therefore, after the Central Economic Work Conference proposed to accelerate the pace of 5G commercialization, the Square area was selected by the Beijing branch of China Unicom. As per tests, the current uplink speed and the downlink speed can reach 200Mbps and 2.6gbps, respectively, fully meeting the transmission requirements of 5G and HD news report of the China Media Group.
The opening of 5G stations also means the Tian'anmen Square will become a "5G smart square". According to the report, 5G networks not only have better signals and faster download speeds, but also have a far-reaching impact on large tourist attractions such as Tian'anmen Square and the Palace Museum. In addition to meeting the needs of high-speed internet access and mobile payment, 5G network can also support 4K HD video calling, ultra-high-definition (UHD) multi-channel video transmission and other services, so as to bring better experiences for the general public and tourists.
The Beijing branch of China Unicom has jointly carried out 4K HD image transmission of some famous scenic spots in Beijing with the China Media Group. As a famous scenic spot in Beijing, the transmission work of Tian'anmen Square has been carried out through the 5G network.
During the two sessions, the company will also meet the media's demand for 5G and HD coverage of the two sessions through the 5G network in the Square and "the ministerial corridor"— the interview area – in the Great Hall of the People.
In the future, the Beijing branch of China Unicom will cooperate with relevant government departments to deploy smart applications such as HD video monitoring and inspection robots through the 5G network.