Russia to fly new expedition to space station on March 14
Russian cosmonaut Alexey Ovchinin, a member of the International Space Station (ISS) expedition 59/60, attends his final exam at the Gagarin Cosmonauts' Training Centre in Star City outside Moscow on February 20, 2019. (Photo: VCG)
MOSCOW, Feb. 21 (Xinhua) -- Russia plans to launch the Soyuz MS-12 spacecraft with an international crew on board for the International Space Station (ISS) on March 14 from Kazakhstan, crew members said Thursday.
The basic crew, including Russian astronaut Alexei Ovchinin and NASA astronauts Nick Hague and Christina Koch, were introduced at a press conference in Moscow.
The back-up crew comprise Russian astronaut Alexander Skvortsov, European Space Agency astronaut Luca Parmitano and NASA astronaut Andrew Morgan.
Ovchinin said the crew plan to perform scientific experiments and complete tasks of dismantling and delivering to the Earth equipment for checks of how it was affected by spaceflight.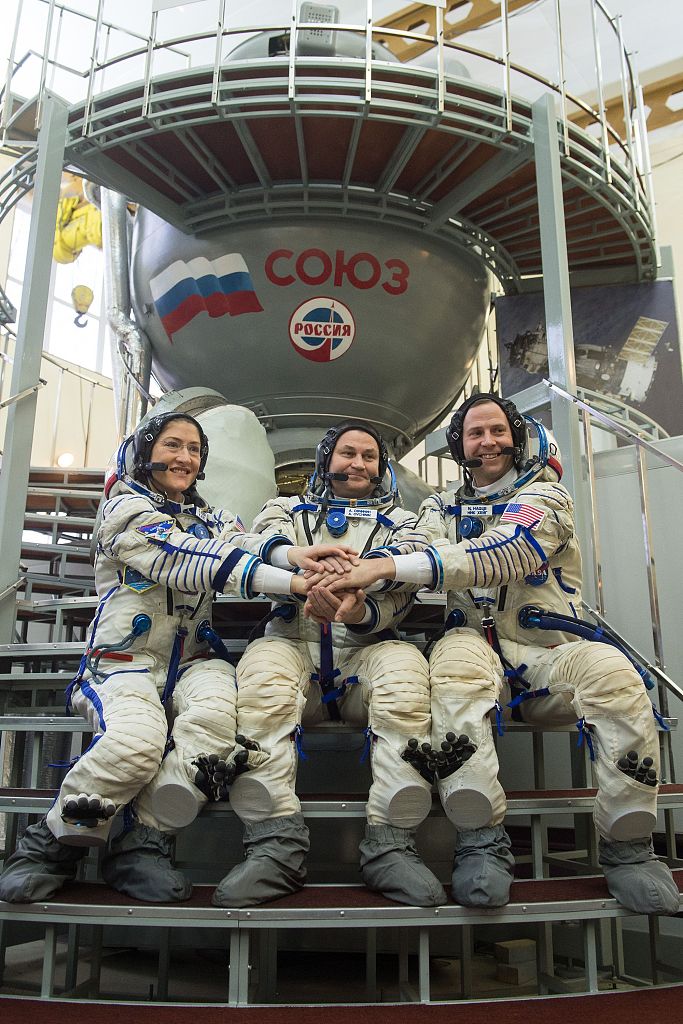 Members of the International Space Station (ISS) expedition 59/60, NASA astronauts Christina Hammock Koch and Nick Hague and Russian cosmonaut Alexey Ovchinin, pose during their final exam at the Gagarin Cosmonauts' Training Centre in Star City outside Moscow on February 20, 2019. (Photo: VCG)
He said he considers a spacewalk scheduled for May the most interesting part of the mission.
Koch could not confirm a plan for performing an all-female spacewalk with another U.S. astronaut currently in orbit, Anne McLain. But she said she had good training and was ready to perform a spacewalk with any crew member.
Ovchinin and Hague will go to the ISS after a launch failure of their mission in October, when they had to make an emergency landing shortly after liftoff due to a carrier rocket malfunction.