Beijing's new airport to feature multi-function rainwater lake
Beijing Daxing International Airport, set to be operational before the end of September, will have an artificial lake to be filled through the collection of rainwater.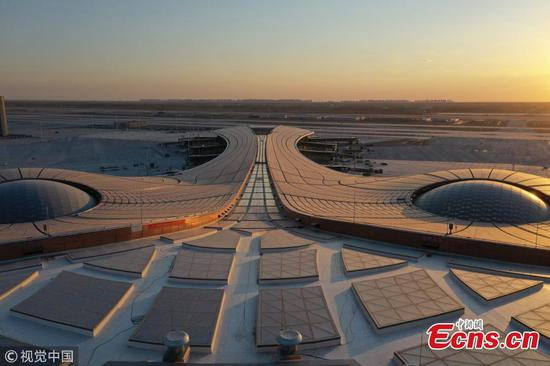 An outside view of the Beijing Daxing International Airport, which will be put into operation before September 30. (File photo: VCG)
The lake will have a capacity of 2.8 million cubic meters of water, equivalent to one-and-a-half times the size of Kunming Lake, the central lake on the grounds of the Summer Palace.
The water supply and drainage project, which has adopted the latest green drainage technology to achieve multiple functions, will shortly be complete, sources said.
In the flight zone and public areas of the airport, the drainage system is composed of six pools to collect rainwater as well as a 9,760-meter-long storage channel. All rainwater at the airport will be collected, filtered, purified, and reused continuously.
The new airport sits at the junction of Beijing's southern Daxing District and Langfang, a city in Hebei Province. It is expected to handle 45 million passengers annually by 2021 and 72 million by 2025.