Hainan to study potential for maglev line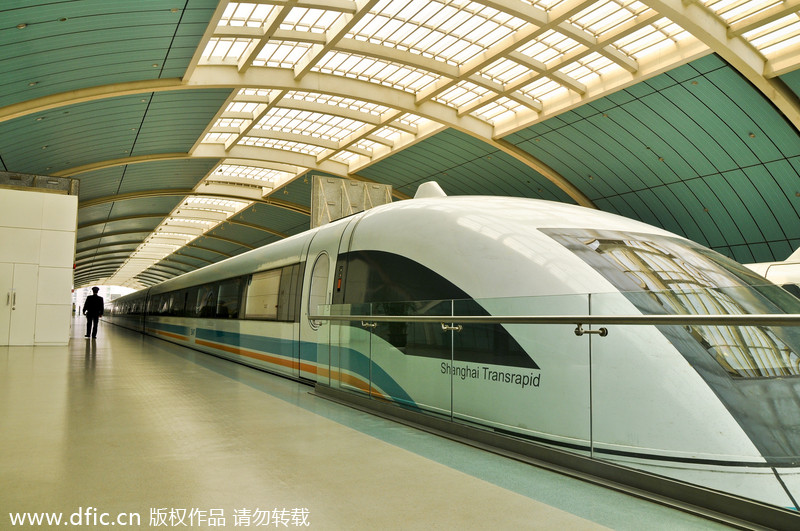 The Shanghai Maglev Train or Shanghai Transrapid, a magnetic levitation train (maglev) line that operates in Shanghai, China. (Photo: dfic.cn)
Hainan has started to select professional institutions to study the prefeasibility of high-speed rail transit systems linking Haikou with Sanya, both cities in South China's Hainan, according to the Hainan Provincial Development and Reform Commission.
The prefeasibility study for the north-south rail transit projects will focus on planning for a high-speed train line with a speed limit of 350 kilometers per hour, and a high-speed maglev line with a designed maximum speed of 600 kilometers per hour.
The research program will start in mid July and is scheduled to be complete in mid-September. Research reports will serve as an important reference for decision making by the provincial government, said an official with the commission.
The deadline for applicants to hand in their applications for the research program is June 24 and the planned official budget is 170,000 yuan ($24,500).
Haikou, the provincial capital, is at the northern part of the tropical island and Sanya, a coastal resort city, sits at the southern tip, which is a popular tourist destination.
Currently, the tropical province has a roundabout railway system that runs for 653km and stops at 25 stations, with a designed speed of 250 km/h. Construction of the around-the-island railway, the first of its kind in the world, started in 2007 and was completed by the end of 2015.
The selected institutions will be required to produce research papers that provide such specific information as the start and end points of the rail transit systems, route directions, scales of construction, main technical standards and main projects of the Haikou-Sanya rail transit lines.
They also should complete plans for the construction periods of the high-speed rail line and maglev line, projected investment, channels for fundraising and preliminary economic evaluation of the projects, a notice on the official website of the provincial commission said.
It said the research should be conducted in line with construction of the Hainan Free Trade Zone and Free Trade Port with Chinese Characteristics, and Hainan's social and economic development, highlighting the principals of advanced inter-connectivity, safety and high efficiency, smart and green development, and good care of local ecological systems.
Through comprehensive comparison and selection, the institutions also should propose optimal project plans, demonstrating the necessity and feasibility of construction of the projects.