Startups eye rocket and satellite markets
As China moves progressively toward its goal of becoming a major power in the global space arena that can rival the United States, space startups and local governments are also racing to tap into the boom in rockets and satellites.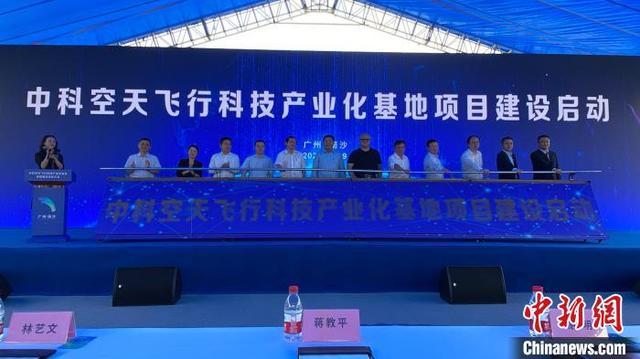 Guests attend the launch event of a production facility for carrier rockets in Guangzhou, Guangdong province, on Oct 9, 2020. [Photo/www.chinanews.com]
Over the past two months, about 2.4 billion yuan ($357 million) of investment was raised by two major private rocket companies in Beijing. In September alone, two massive manufacturing complexes-one for satellites and another for rockets-started construction in Hebei province's Tangshan and Shandong province's Haiyang.
Now, the southern coastal province of Guangdong, one of China's economic powerhouses, is determined to catch up and has chosen to start by building carrier rockets.
Last week, Guangzhou, the provincial capital, began construction in cooperation with CAS Space, a Beijing-based startup virtually controlled by the Chinese Academy of Sciences, on the country's southernmost production facility for carrier rockets.
The 40 hectare complex in Guangzhou's Nansha district will have an initial annual production capacity of 30 rockets upon the completion of the project's first phase around 2022, CAS Space said in a statement sent to China Daily on Friday.
Yang Yiqiang, a senior rocket scientist and chairman of CAS Space, said that the complex will be capable of designing, manufacturing, assembling and testing both liquid and solid-propellant rockets. It will also welcome other space-related businesses such as those involved in rocket engines, satellites and ground control and tracking, according to him.
The rocket complex project is part of a massive joint effort between the Guangzhou city government and the Chinese Academy of Sciences, the largest scientific body in the country, that aims to establish a 99 square kilometer "science city" in Nansha. The research and industrial base will be home to more than 10 research organizations affiliated with the academy, according to the city government.
Established by scientists and engineers at Chinese Academy of Sciences' Institute of Mechanics in 2018,Yang's company is conducting research and development on a solid-propellant rocket capable of launching a 1.5-metric ton satellite.
Once the new rocket becomes operational, it will be the nation's most powerful solid-fuel launch vehicle, Yang noted, adding that the company has signed agreements of intent about launch service with two satellite makers in Shanghai and Changchun.
Currently, the most powerful solid-propellant rocket in China is the Long March 11 made by the China Academy of Launch Vehicle Technology. It is capable of sending 700 kilograms of payload into a low-Earth orbit or 400 kg into a sun-synchronous orbit 700 kilometers above the ground.