Space lab returns to Earth after nearly three years in orbit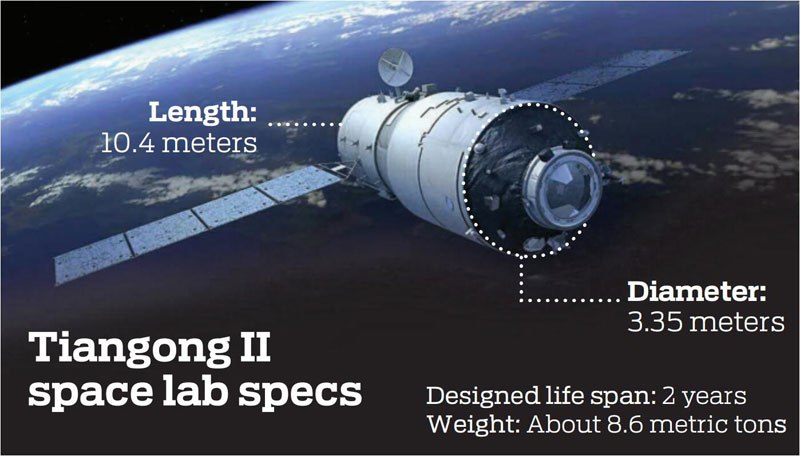 Tiangong II space lab specs. (Photo: China Daily)
China's Tiangong II space lab made a controlled descent on Friday back into the atmosphere after a 1,036-day space journey, according to the China Manned Space Agency.
The spacecraft reentered the atmosphere at 9:06 pm Beijing time after several orbital maneuvers following control signals from Chinese space authorities.
Much of the spacecraft burned up during reentry while a small amount of debris fell in a designated secure area in the South Pacific, the agency said in a statement, adding that the reentry marked the successful completion of China's space lab program.
Zhu Zongpeng, Tiangong II's chief designer at the China Academy of Space Technology in Beijing, said that although the spacecraft was still in good condition and had sufficient fuel before reentry, scientists decided to retire it for operational and safety reasons.
The spacecraft had significantly outlived its designed life span by a year and an extended period in orbit might create hazards, Zhu said.
Therefore, the country chose to decommission it to honor its obligations as a responsible global space power, the designer added.
Tiangong II was put into orbit in September 2016 atop a Long March 2F carrier rocket from the Jiuquan Satellite Launch Center in the Gobi Desert. The space lab was 10.4 meters long, 3.35 meters in diameter and weighed 8.6 metric tons.
More than 1,000 days into its orbit 393 kilometers above the ground, the spacecraft substantially outlived its two-year designed life span and had completed all of its assigned tasks.
During its orbital stay, Tiangong II carried out four dockings with the Shenzhou XI manned spacecraft and Tianzhou 1 cargo spaceship, enabled China to verify a series of key technologies such as midterm life support and in-orbit refueling, and to execute multiple extended experiments, according to the agency.
It carried about 600 kilograms of scientific payloads in 14 categories and fulfilled more than 60 scientific experiments and technological tests, gaining a great deal of achievements.
The agency said the Tiangong II mission had gathered significant experience for the construction and operation of the country's future space station.
Its predecessor, Tiangong I, was launched in September 2011 and was mainly used to test technologies involved in space rendezvous and docking. Tiangong I fell back to Earth in April 2018 in an uncontrolled manner.
China launched its manned space program in 1992 and made the first manned mission in October 2003. Since then, China's six manned spaceflights have totaled 68 days and orbited the Earth 1,089 times, while the nation's astronauts have traveled more than 46 million km in space and conducted more than 100 experiments.
In the next phase in China's manned space endeavor, the country plans to build its first manned space station and put it into service around 2022.
The multimodule Chinese station, named Tiangong, will be mainly composed of three parts-a core module attached to two space labs-and have a combined weight of more than 90 tons, according to space officials.