Rocketry expertise used in artificial lung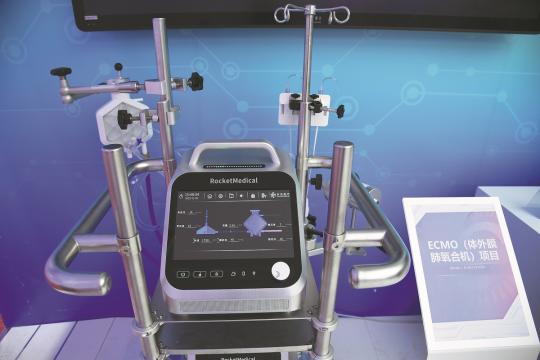 Chinese rocket engineers have used their knowledge of space vehicles to design a new type of extracorporeal membrane oxygenation (ECMO) machine that has the potential to save many lives.
The National Medical Products Administration, China's top drug regulator, announced on Tuesday evening that it has approved emergency use of the second domestically developed ECMO device, the Huisheng I, which was produced by Rocket-Medical, a subsidiary of the Beijing Institute of Precision Mechatronics and Controls.
The machine will improve patient access to ECMO support, help meet urgent demand for such devices and improve the treatment of patients badly ill with COVID-19, the administration said in a news release.
ECMO is the extracorporeal technique of providing prolonged cardiac and respiratory support to persons whose hearts and lungs are unable to keep them alive. Also known as an artificial lung, the device is often used as a last-ditch treatment for patients exhibiting critical organ failure, and is believed to play an important role in treating serious cases of COVID-19.
"The parent organization, the Beijing Institute of Precision Mechatronics and Controls, is known for developing the servo motors used on the Long March carrier rockets. Servo motors help manipulate and fix a rocket's position, direction and trajectory during flight. They make use of controlling motors, pump valves, axle bearings as well as magnetically levitated parts, parts also key to building an ECMO device," said Xu Jian, general manager of RocketMedical.
Xu said that having become aware of the demand for the devices and the gap in supply following the outbreak of COVID-19, RocketMedical decided to take advantage of the institute's expertise to design a new one. Development started in the summer of 2020.
To test the device, RocketMedical worked with a number of top hospitals, including Peking Union Medical College Hospital and the People's Liberation Army General Hospital, on animal experiments and then clinical trials on aged patients with severe symptoms, Xu said, adding that the results were satisfactory and testify to the device's safety and effectiveness.
"Its chief capabilities and functions are on par with those of its international peers. Moreover, it is much lighter and more movable than imported devices, allowing for convenient transport and quick use," he noted. "Its operating system is more friendly to Chinese doctors and nurses because it is simpler to use."
Currently, the Huisheng I has entered small-scale production.
The first domestic ECMO machine, made by Chinabridge Medical in Shenzhen, Guangdong province, was cleared for use by the National Medical Products Administration on Jan 4.
Previously, all membrane oxygenators on the Chinese market were made by foreign companies, primarily German manufacturers.
By late December, China had more than 2,600 ECMO machines, according to the National Health Commission.