Farming robot makes its debut in Fujian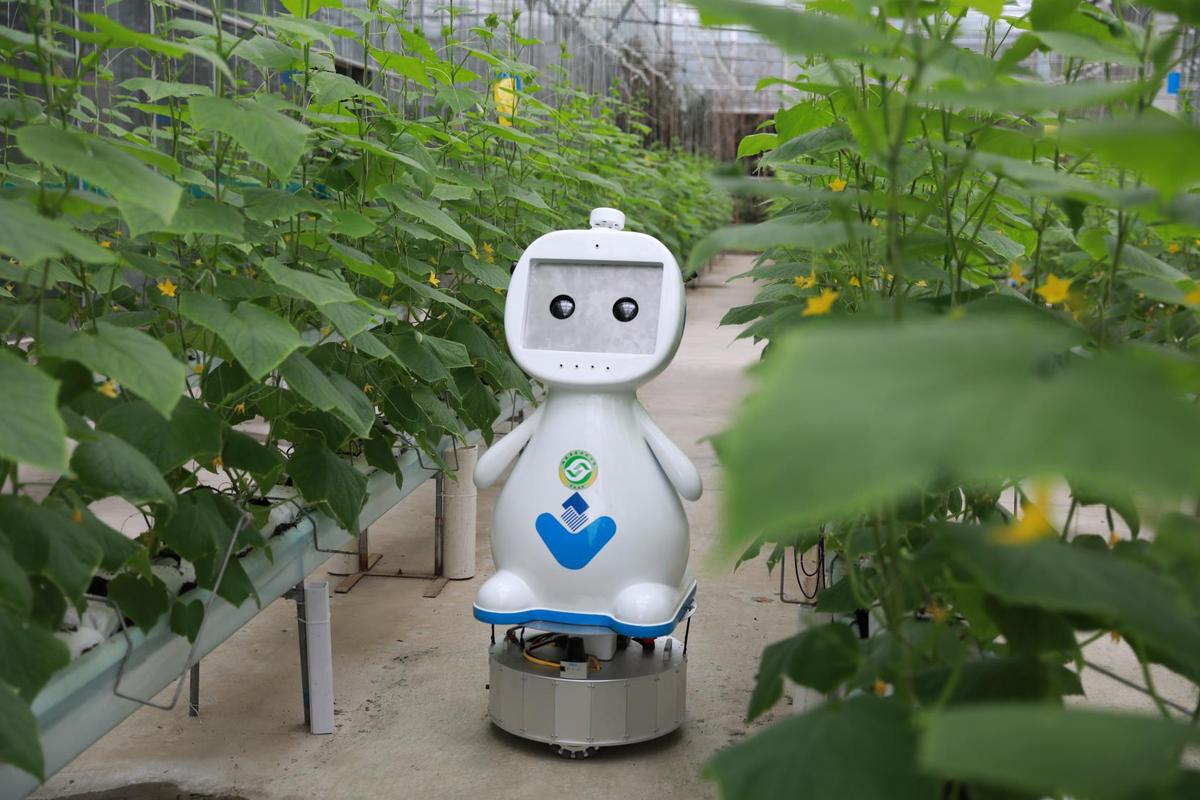 A farming robot moves in between two rows of plants in a greenhouse in Fuzhou, capital of Fujian province. (Photo: China Daily)
While industrial robots have become a common sight in factories across eastern China, the country's agriculture sector is seen by some as a place where few technologies can take root, due to the high cost and sophisticated natural environment involved in growing food.
But a research institute and a startup based in Fuzhou, capital of East China's Fujian province, are determined to change the perception by jointly developing an agricultural robot.
The white, 5G-enabled, sensor-rich agricultural robot can move between two rows of leafy greens in a greenhouse, collect data about the plants, and feed it back to the control room.
Developed by Fujian Academy of Agricultural Sciences and Fujian Newland Era Hi-Tech Co Ltd, the robot is part of their efforts to build an autonomous running farm.
Different from industrial plants where robots can follow preset routes and do fixed jobs such as feeding standardized electronic parts, agricultural environments are far more complex, said Zhao Jian, deputy head of the digital agriculture institute of FAAS.
"Farm robots also have to adapt to a wide variety of highly differentiated crops, livestock and aquatic products," said Zhao.
To solve the challenges, the research institute and Newland have jointly developed a more sophisticated artificial intelligence system. Computer algorithms as well as the hardware for positioning, map construction, route design and avoiding obstacles have all been optimized to suit the agricultural environment, taking into consideration fertilization, watering the plants, bumpy roads and other natural factors.
The robot's head is equipped with two 5 megapixel cameras as the "eyes" and two 7 megapixel cameras as its "ears". With sensors at the top of its head and mouth, the robot can also detect wind velocity, carbon dioxide levels, humidity, temperature and other data about the natural environment of the green house.
The farm robot has been successfully tested for compatibility with the 5G mobile communication technology, which allows the data to be analyzed by computers enabled by AI in the control room more efficiently.
"Currently, the robot can inspect farms automatically and collect data samples used to power various applications. It can determine plants' health condition and decide if pest control measures are warranted," said Chen Li, deputy director of marketing at Newland.
According to Chen, the robot is still a prototype and on the basis of that the two sides hope to step up investments to develop versatile robots that can even pick fruit with a bionic hand in the future.
"Based on the mass agricultural data and images we have acquired, we hope to build an optimized plant growth model to achieve automatic control of the growth environment and early warning of pests and diseases," Chen added.
China is now the world's largest market for industrial robots. As labor costs continue rising, the demand for robots will be stronger in the nation, said Wang Tianmiao, president of the Smart Manufacturing Research Institute at Beihang University.