Industrial heartland reinvents itself for new-age technology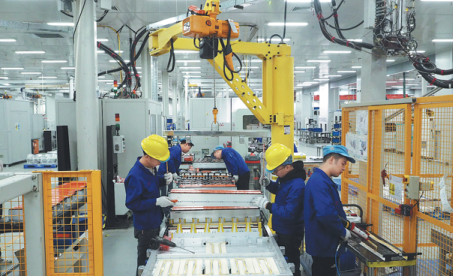 Workers assemble cells at an electric vehicle plant of BYD in Taiyuan. (Photo: China Daily)
Shanxi moves on from traditional coal mining to attract investors through emerging industries
As a province that used to rely heavily on coal mining, Shanxi in North China is now diversifying its economy through industrial reform.
According to the provincial government of Shanxi, the province is using cutting-edge technologies such as cloud computing, big data, mobile internet, the internet of things, industrial internet and blockchain to create eight new economic pillars.
The eight pillars are: information technology, civil aviation, finance, cultural tourism, new energy and new materials, natural gas, advanced manufacturing and modern chemicals.
The outbreak of COVID-19, which began in December and declined in March in China, has not stopped the pace of industrial structure reform.
According to the Shanxi provincial government's requirements on normalizing economic activities, many businesses and investment promotional organizations in the province have stepped up their efforts to attract investors to these emerging sectors.
The administrative committee of the Changzhi Economic and Technological Development Zone in Changzhi city, southeast Shanxi, is one such organization.
Li Wenbin, head of the committee, has been busy meeting investors, making research tours and offering services to local businesses.
"I met some visiting businesspeople from Jiangsu province on April 3," Li said.
The business representatives were from Donghua Aluminum Technology in Jiangyin city, Jiangsu province.
The delegation visited the local Zhongde Group, a producer of cells for new energy vehicles, hoping to manufacture and provide cell cases for the company.
According to Li, the committee's officials made great efforts to help the two companies reach a deal.
They held a special seminar to explain the development zone's advantages in policies, market potential and resources to the investor.
As one of the demonstrative areas of Shanxi's industrial restructuring, the Changzhi zone has competitive industries such as advanced manufacturing, solar power equipment production, new energy and new materials, according to Li.
The official said since the beginning of 2020, the zone has signed 47 investment projects, with total funding reaching 11.78 billion yuan ($1.66 billion).
In addition, Li said 22 investment projects are under construction, with investment totaling 6.82 billion yuan.
While investment officials are busy promoting local investment destinations, the province has seen gradual production resumption in its emerging industries.
In the Shanxi Transition and Comprehensive Reform Demonstration Zone located on the borders of Taiyuan and Jinzhong cities, all the enterprises above designated scale-which refers to companies with annual sales revenue surpassing 20 million yuan-have resumed their operations, according to the zone's administrative committee.
SND New Energy Special Vehicle was one of the earliest companies in the zone to resume production.