Big data expo highlights 5G technology
This year's International Big Data Industry Expo concluded on Wednesday. Hundreds of tech firms from more than 50 countries showcased their latest technologies during the four-day event. 5G, unsurprisingly, was a focal point.
In the Huawei pavilion, the leading player in 5G technology demonstrated how advanced the technology is via an interactive scenario – whatever one writes or paints on a pad, the robotic arm beside it would recreate it almost simultaneously. This demonstration illustrated one of its advantages – low latency, which is expected to empower such things as telemedicine and automated driving.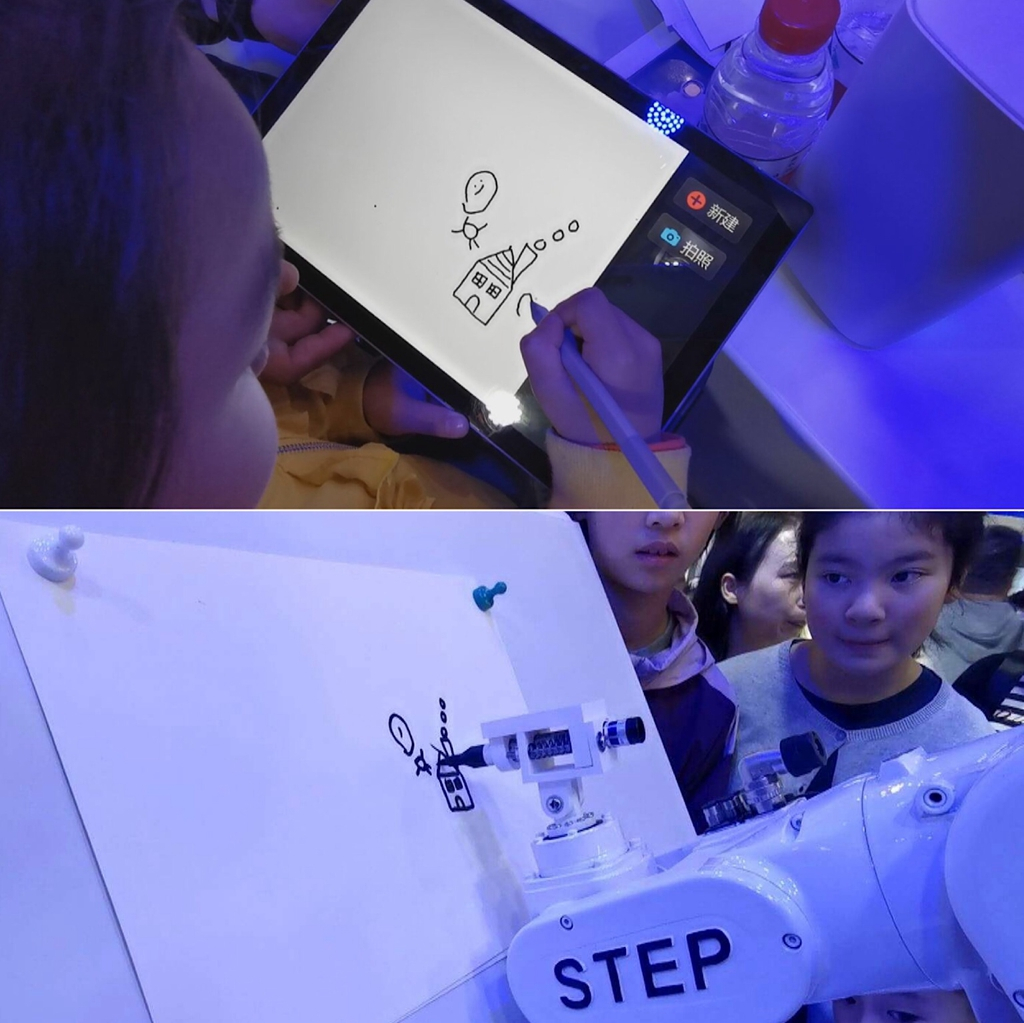 An interactive activity in Huawei pavilion demonstrates one of the advantages of 5G – low latency. (Photo: CGTN)
A tech firm from Shenzhen simulated a bus-driving scene, where a driver would receive an alert from a smart safety warning system if he or she dozes off or is distracted by a phone. The system functions a lot better with the help of 5G.
"With the greater bandwidth of a 5G network, the system can send video evidence regarding the driver's irregularities to authorities a lot faster, and can guarantee the accuracy and clarity of the footage," salesman Wang Chongbo from the company, told CGTN.
ZTE, a major supplier of telecoms equipment in China, showcased how it has applied 5G technology in various solutions, such as treating poullted water and machine manufacturing.
Huawei also exhibited their latest-generation chips, which attracted much attention at the event.
"We brought three categories of chips this time – those for smart devices, those for base stations and core networks respectively. They are all independently developed by Huawei," a Huawei employee at the expo told CGTN.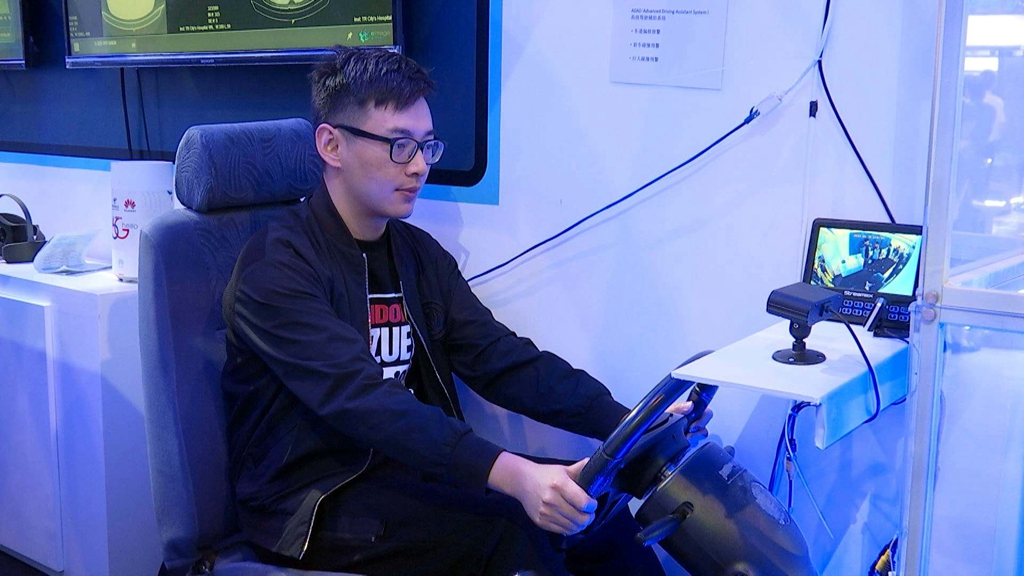 An employee from a Shenzhen tech firm shows how its smart safety warning system functions better with the 5G technology. (Photo: CGTN)
Huawei has come under scrutiny after the U.S. government put it on its so-called "entity list." But here at the expo, the tech giant has also shown confidence at the big gathering.
Lu Yong, vice president of Huawei, said the company was indeed in a difficult time, but it was optimistic in facing the challenge.
"Huawei ranks first worldwide in terms of 5G patents, accounting for 20 percent. But the number of 5G core patents from all U.S. companies combined is less than 15 percent. Huawei alone owns more than 2,570 patents," Lu said.
He added that the external blow will only make Huawei more united and stronger.
"We still firmly believe that with our unremitting efforts and trust from our clients, we will be able to build a real digital and smart world for each family and organization. This is the latest vision of Huawei."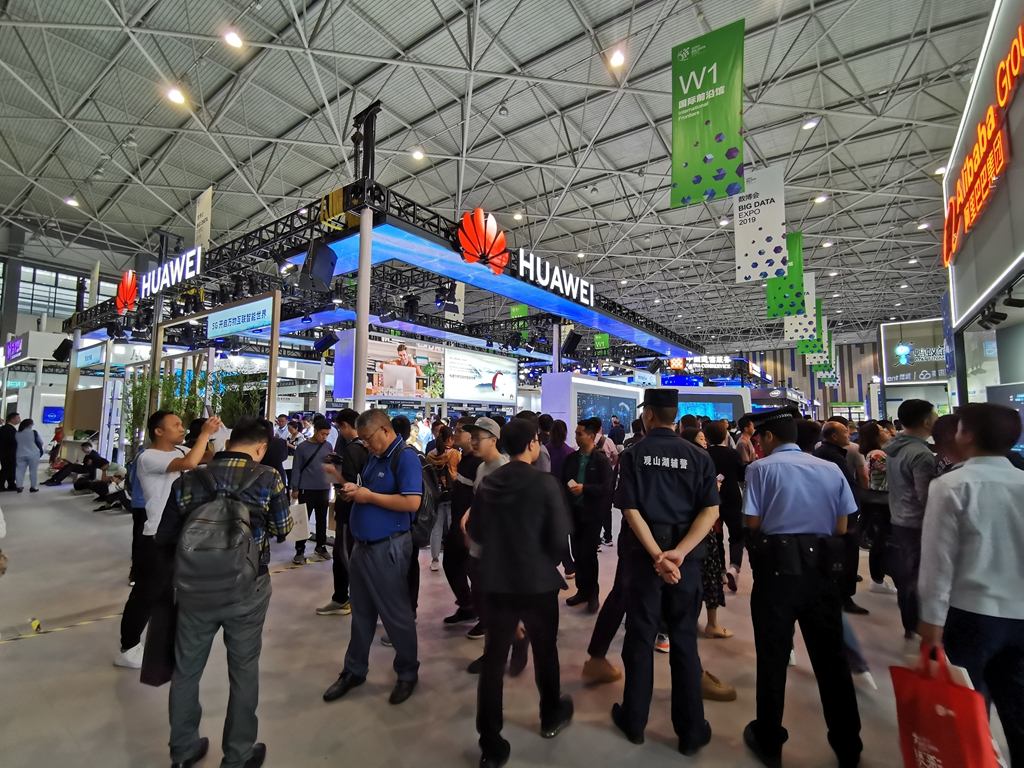 The annual expo attracts a number of visitors. (Photo: CGTN)
Lu called for closer cooperation from telecom operators, their partners and clients to build a strong 5G industrial ecology, realizing diversified application scenarios.
Besides Chinese tech giants, many foreign heavyweight industry players, including Google, Dell, NTT DATA and Seagate, also displayed their expertise at the event.