China invites other nations to join moon exploration
chinadaily.com.cn
1563720253000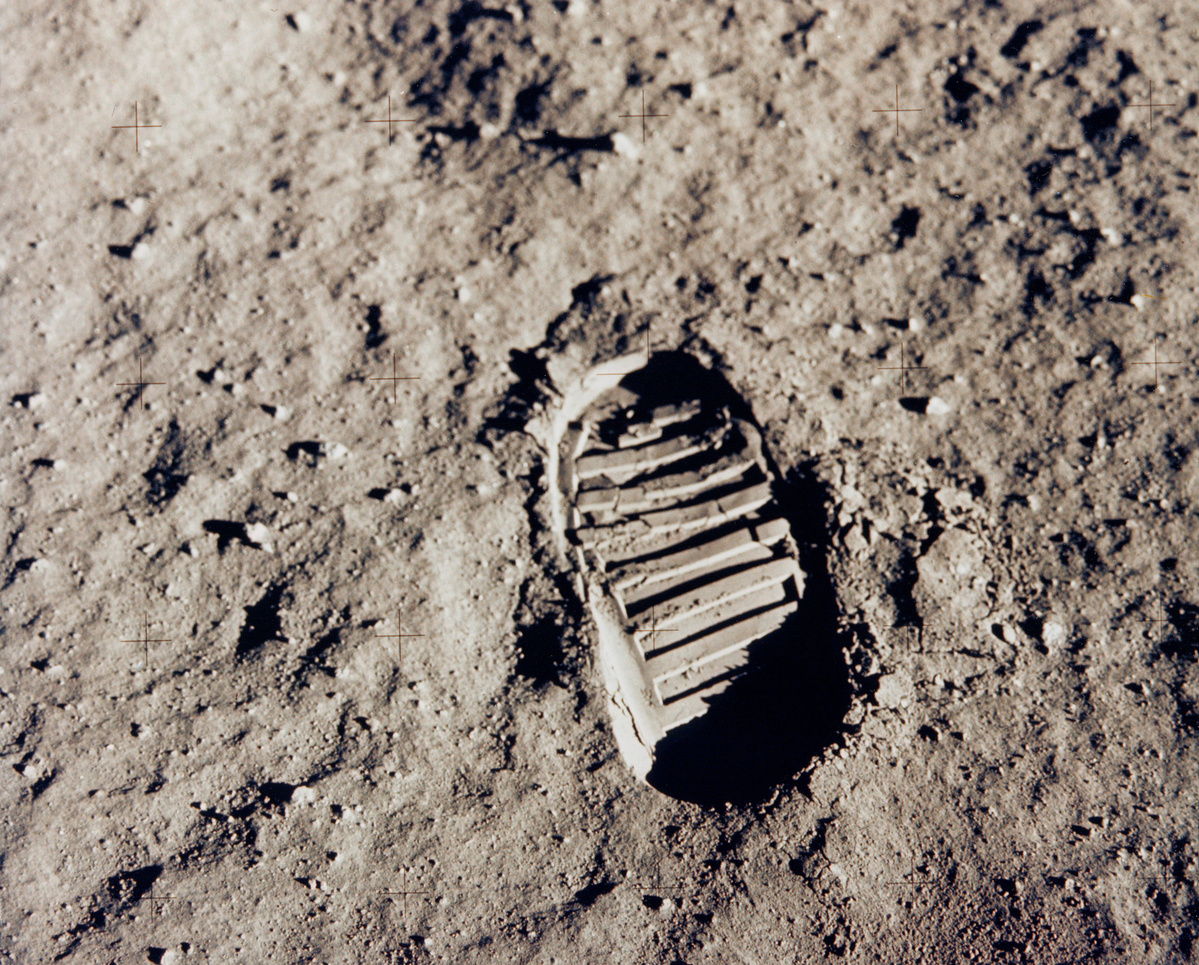 This NASA file image, dated July 20, 1969, shows one of the first footprints of Apollo 11 astronaut Edwin Buzz Aldrin on the moon. (Photo:Agencies)
In 1969, when Neil Armstrong became the first human to walk on the moon, the astronomical body was just the thing aloof on which Chinese people gazed and mused. Fifty years later, China became the first ever to land a robotic spacecraft on the lunar far side.
As the world celebrates the historic moon landing on July 20 half a century ago, Chinese lunar explorers said China's Moon exploration program, which includes a robotic lunar research station prototype by 2030 to prepare for manned missions, is open to international cooperation.
With more lunar scientific exploration and verifying technology, the lunar research station will become a base for astronauts to visit briefly, and ultimately for their long-term stay, Li Chunlai, director of the Ground Research and Application System of the Chinese Lunar Exploration Project, and three of his colleagues, wrote on Friday.
"International cooperation is an important element in China's strategy of lunar and deep space exploration," they said in an article published on the special issue of the US journal Science to mark the July 20, 1969, Apollo 11 moon landing.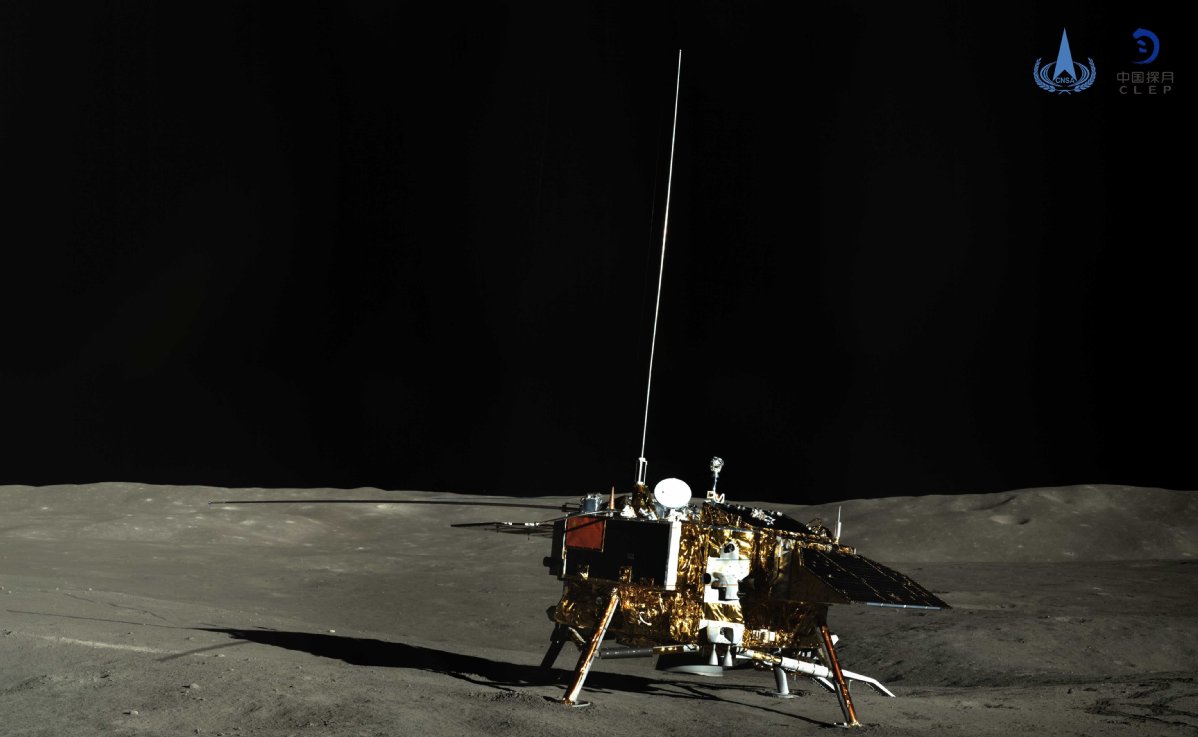 The probe's lander at rest on the moon. (Photo provided by China National Space Administration)
China unveiled a robotic lunar exploration program in 2004, consisting of three phases — orbiting, landing and returning — and named the program the "Chang'e Project" after the Chinese goddess of the Moon.
Four missions have already conducted between 2007 and 2019, with the Chang'e-4 deploying a lander and Yutu-2 rover on the surface of the far side of the moon in early January. The fifth mission, scheduled for early next year, is designed to return rocks to Earth from a lunar area as yet unsampled, according to the authors.
After 2030, China's lunar exploration program will continue to develop capabilities in both robotic and human exploration, with robot exploration as the primary development direction of subsequent lunar exploration missions, they said.
Interestingly, the National Aeronautics and Space Administration (NASA) named its new moon program Artemis, after the twin sister of Greek mythology's Apollo.
The US space agency hoped to put Americans on the moon again by 2024. Congress had provided it $21.5 billion in fiscal year 2019, which, adjusting for inflation, is NASA's best budget in a decade, according to Casey Dreier, chief advocate and senior space policy adviser of the Planetary Society in California.
In the Science article "China's present and future lunar exploration program", Li and his colleagues said China's exploration plan is "flexible and iterative", with an emphasis on international cooperation.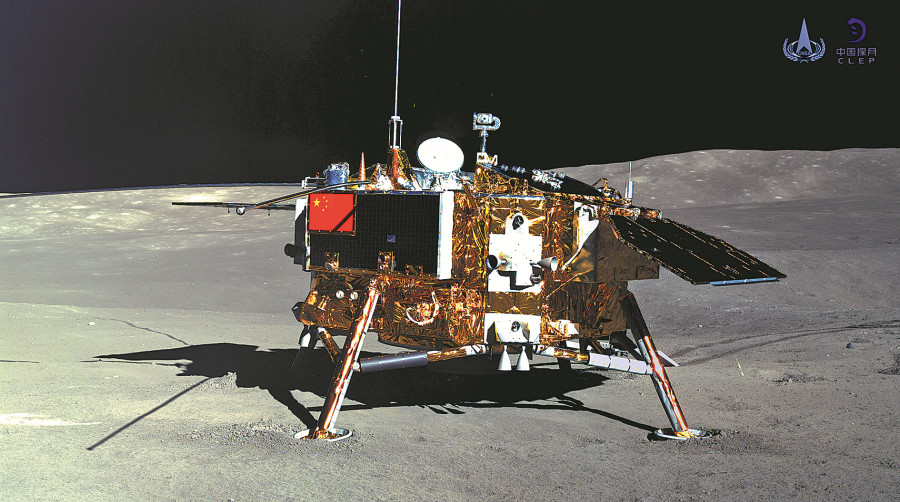 Photo taken by the rover Yutu 2 (Jade Rabbit-2) on Jan 11, 2019 shows the lander of the Chang'e 4 probe. (Photo: Xinhua/China National Space Administration)
It said China is open to cooperation with NASA on lunar exploration.
"Both sides can start cooperating on aspects such as exchange of scientific data and space situational awareness information," the article said. "China also looks forward to exploring more opportunities to cooperate with NASA to preserve the space environment for generations to come."
Already, China's latest lunar mission Chang'e-4 has carried experiments from Germany, Sweden and the Netherlands, it said.
In April, the China National Space Administration announced cooperation opportunities for China's sixth lunar mission and its asteroid exploration mission. It also signed lunar exploration cooperation agreements with the United Nations Office for Outer Space Affairs (UNOOSA), Turkey, Ethiopia and Pakistan.
James W. Head, a professor of geological science and planetology at Brown University who had participated in all the Apollo missions in the 1960s and 70s, said the 50th anniversary of the moon landing "makes us realize that when the astronauts looked back from the moon they saw no national boundaries, but simply what Carl Sagan called a 'pale blue dot' that was their Home Planet".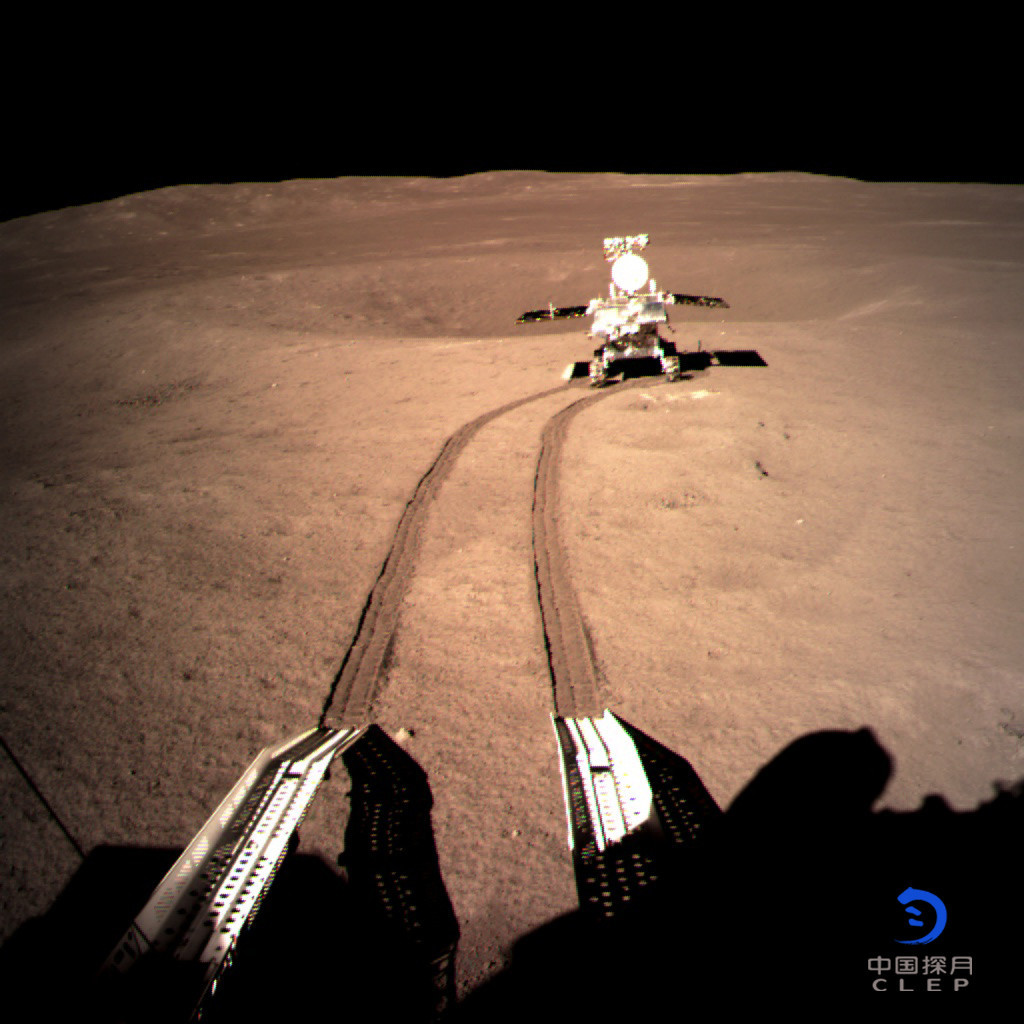 This handout image taken on Jan 3, 2019 shows China's lunar rover, Yutu-2, or Jade Rabbit-2, leaving the first ever "footprint" after rolling down a track extending from China's robotic lunar probe Chang'e-4 lander on the far side of the moon. (Photo: IC)
"The ability of many countries to undertake robotic, and soon human exploration is a wonderful peaceful way to demonstrate their technical capability and develop space technology that can be used to better conditions in their own countries as well as the Earth as a planet," he told China Daily in an email."International cooperation is already well underway on all of these missions."
In an earlier interview with China Daily, Head said the moon is a big place with "lots of exciting questions" to pursue, and there is lots of room for individual countries to have specific national lunar exploration programs.
"But it would be in no one's interest if we all duplicated each other's work. Coordination, collaboration and cooperation are among the many ways that we can work to optimize the scientific and fiscal outcomes," he said.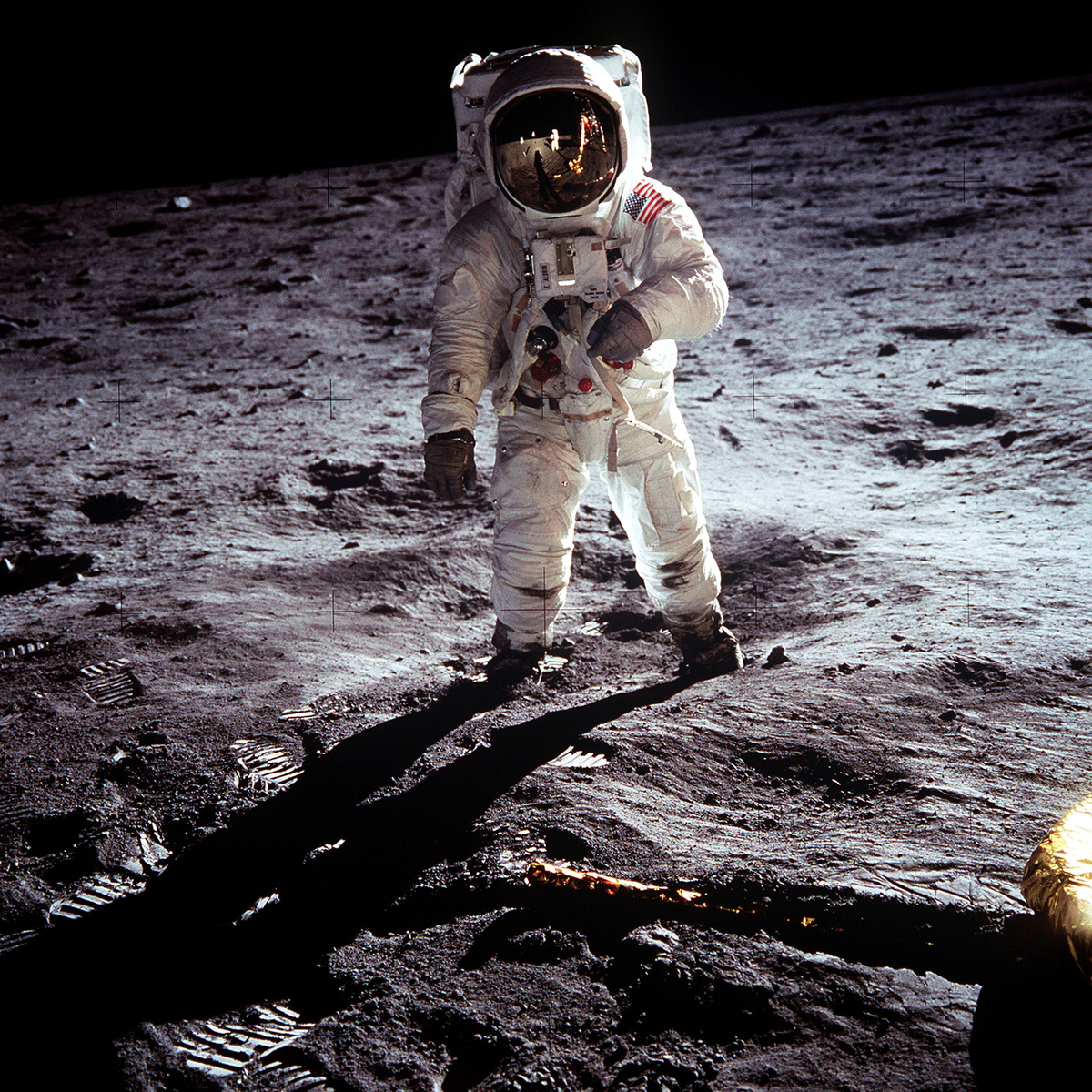 US astronaut Buzz Aldrin standing on the Moon, next to the Lunar Module "Eagle" (R), July 20, 1969. (File photo: NASA via agencies)
In 1963, President John F. Kennedy asked, "Why should the United States and the Soviet Union, in preparing for such expeditions, become involved in immense duplications of research, constructionand expenditure?"
Asked to comment on the former president's remarks, David A. Mindell, professor of aeronautics and astronautics at the Massachusetts Institute of Technology, said Kennedy "certainly had some desire" for more collaboration there, and at the same time, projects that compete with each other tend to be very innovative.
"If you look at the United States and Russia right now, the closest links between the governments are in the space program, and that's a good thing, given whatever else happens around there," he told China Daily in an interview in Washington.
Asked about the feasibility of space cooperation between China and the US, Mindell said, "I would hope there would be. Actually, I think the politics have made it hard, as much on the US side -- probably more on the US side than on China's part."