R&D of nuclear reactor signifies big milestone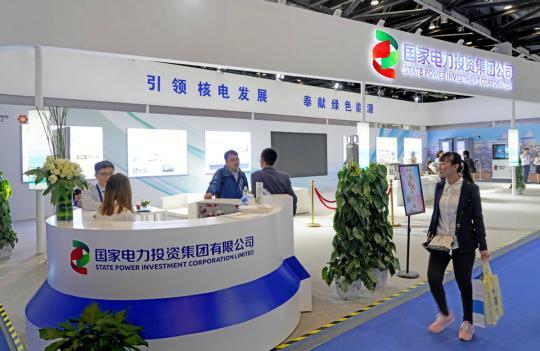 The booth of State Power Investment Corp at an industry expo in Beijing. (Photo: China Daily)
Third-generation nuclear reactor technology has broken foreign monopolies in many fields and will enable China to own independent intellectual property rights and harness export potential, said senior executives of State Power Investment Corp.
Their comments came after SPIC, one of China's three nuclear power developers and operators, announced the completion of research and development of the country's third-generation nuclear reactor project called CAP1400, or Guo He One, early last week.
The CAP1400 R&D is the latest achievement in China's nuclear power technology development and industrial innovation.
Based on the third-generation nuclear technology of AP1000, imported in 2007, the CAP1400 has made great technological innovations over 12 years of hard work by more than 26,000 Chinese technology engineers from 477 Chinese companies with various specializations, said Zheng Mingguang, chief designer of the CAP1400 nuclear reactors.
In addition to technologies, equipment is critical to the sustainable growth of nuclear projects, he said.
About 90 percent of the CAP1400's equipment is domestically made. All its key parts and materials, like the reactor coolant pumps, squib valves, steam generators, reactor pressure vessel internals, control rod drive mechanisms, large forgings and nuclear-grade welding material, are all domestically designed and manufactured, he said.
In comparison with the second-generation version, the new reactor, with a design life of 60 years, extends the non-manual intervention time from 30 minutes to 72 hours, and dramatically improves safety performance against natural disasters like earthquakes and floods by 100 times, said Lu Hongzao, SPIC's assistant president.
"The CAP1400 nuclear reactors will be powerful electricity suppliers," said Lu. "For instance, each reactor can provide 1.5 million kilowatt-hours of electricity to the grid. Therefore, it is able to provide nearly 13 billion kilowatt-hours on a yearly basis."
As this technology is competitive in the global market with a relatively high degree of safety and lower costs, SPIC is promoting the CAP1400 for exports. It is discussing potential partnerships with countries such as South Africa and Turkey, said Hao Hongsheng, general manager of the company's nuclear energy department.
He said because the construction cost for the reactors can be cut by 20 percent after achieving mass production, the group is optimistic about the long-term export potential of the CAP1400.
The annual generating capacity of a single CAP1400 unit can meet the electricity needs of over 22 million residents and reduce greenhouse gas emissions such as carbon dioxide by more than 9 million metric tons a year, he said.
China had 13 nuclear power units under construction, with a total installed capacity of 13.87 million kW by the end of 2019, ranking first in the world.
It is estimated that by 2025, the country's installed nuclear power capacity in operation will reach 70 million kW, with 30 million kW already under construction, according to the Beijing-based China Nuclear Energy Association.
A number of nuclear power plants of SPIC are under construction or already in operation. Prominent among them are the Hongyanhe nuclear power plant in Northeast China's Liaoning province, and Haiyang and Rongcheng nuclear power plants in East China's Shandong province.
SPIC also has reserved several project sites in both inland and coastal areas of China.
It has built a presence in 41 countries and regions such as Japan, Australia, Malta, India, Turkey, South Africa, Pakistan and Brazil.
Its businesses cover power project investment, technical cooperation, and engineering, procurement and construction.
The Beijing-based State-owned enterprise has 115 mW of controllable overseas projects in operation and 10.05 gW under construction.
By expanding its energy markets at home and abroad, SPIC aims to become an international innovative and integrated energy group and modern SOE, which is driven by innovation of nuclear power and other advanced energy technologies.
Ma Yu, a senior researcher at the Beijing-based Chinese Academy of International Trade and Economic Cooperation, said the focus of nuclear project construction across the globe is expected to shift from developed to developing countries, especially to many economies related to the Belt and Road Initiative.
Advanced nuclear projects are already under development in inland provinces. China's third-generation nuclear reactor technologies will strongly ensure the healthy growth and integrated development of the Yangtze River Delta, the Guangdong-Hong Kong-Macao Greater Bay Area and the Beijing-Tianjin-Hebei region as well as the Hainan Free Trade Port in the future.