Chinese private rocket company finishes liquid rocket engine trial to rival SpaceX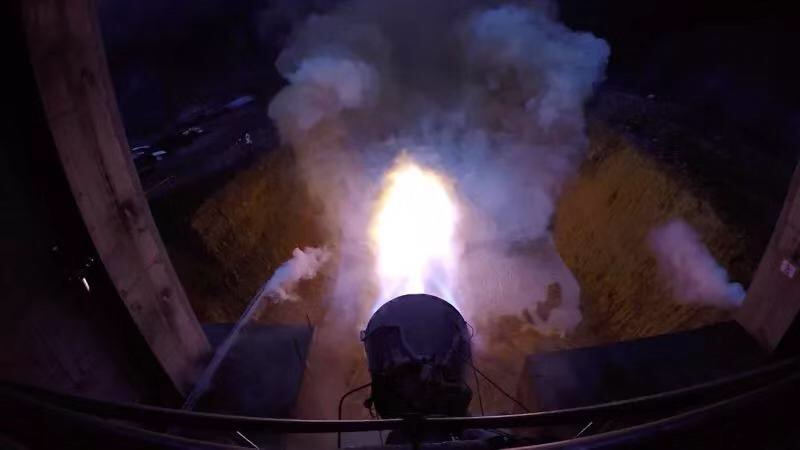 An 80-tonne thrust-level liquid rocket engine (LRE) owned by a Beijing-based company has successfully carried out its hot firing test runs. (Photo: CGTN)
An 80-tonne thrust-level liquid rocket engine (LRE) owned by Beijing-based LandSpace has successfully carried out its hot firing test runs on Friday with the longest run-time reaching 20 seconds.
The TQ-12 has so far become the world's third LRE, after SpaceX's Raptor engine and Blue Origin's BE-4 engine, to complete the test in such a high thrust level.
As the highest thrust level of bipropellant cryogenic LRE in China, the engine features non-toxic, high-reliability, high-performance, low-cost, and more importantly, reusability, which is the evolution direction of the main rocket engine, LandSpace said.
The engine is able to undertake almost all forms of rocket launches with its thrust level ranging from 10 to 100 tonnes on various launch platforms, according to Ge Minghe, the company's general manager.
"Its thrust level could cover the single propulsion system of small launch vehicles up to middle launch vehicles and even to heavy launch vehicles," he said.
Since 2017, the TQ-12 has been through several tests, including a gas generator test run, a thrust chamber with short nozzle configuration test run and a power-pack test.
The successful test made by LandSpace has lightened up the private aerospace market in China after several abortive commercial launches made by the company itself and its competitors.
Early this year, another private rocket company OneSpace reportedly failed to send its satellite into space via their self-developed carrier rocket. It said that the rocket lost control after its first-stage separation.
Even LandSpace met its Waterloo in 2018 when they tried to send their 19-meter-long rocket ZQ-1 into orbit but ended up missing the target.
With a diameter of 1.35 meters, LandSpace's ZQ-1 has a takeoff weight of 27 tons and a thrust of 45 tons. It aims to carry out the commercial launch for small satellites.