Chinese colleges include AI major to boost research
Global Times
1554117884000
Nation's universities to become core in building AI innovation centers
China officially adopted artificial intelligence (AI) into its college educational system following a guideline calling for promotion of AI education in elementary and high school, which enriches the country's overall AI education. Some private institutions have also started to provide basic AI instruction to kindergarten children.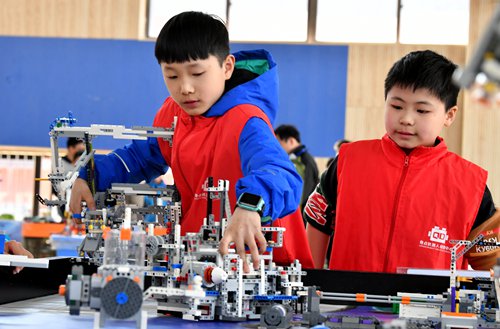 Two students from an elementary school in Hefei, capital of East China's Anhui Province, compete in a robot game at their school on Sunday. (Photos: VCG)
Authorities have allowed 35 universities to set up a major in AI, the start of China's AI education in college, Science and Technology Daily quoted the Ministry of Education(MOE) on Saturday as saying.
These include University of Science and Technology Beijing, Beijing Jiaotong University, Tongji University and Zhejiang University.
The ministry also approved AI-related majors. 101 universities are allowed to offer a robotics engineering major and 203 universities can offer data science and big data technology majors, Science and Technology Daily said.
This is not the first time the ministry called for AI education on the collegiate level. In April 2018, the ministry issued an action plan to promote AI education in college, Xinhua News Agency reported.
The plan states that universities in China will improve the AI discipline and should achieve breakthroughs in basic theory and key technology research by 2020. Chinese universities will become the core in building major global AI innovation centers by 2030, the report said.
Analyst noted that AI education in college will allow students to further develop AI applications, but wants them to focus on AI basic theory research.
Research organizations and enterprises are the major force in driving the development of AI in China. Certain products by AI companies have made China outstanding in the field, such as the translation app by Iflytek Co Ltd, Huang Chengqing, vice president of the Internet Society of China, told the Global Times on Sunday. But AI education integrates AI with mathematics, statistics, physics, biology, psychology, and sociology. Universities should focus on basic theory research, which is an area that China lacks, Huang said.
China and the US dominate AI, a study published in January by the World Intellectual Property Organization (WIPO) shows.
Chinese organizations account for three of the four academic players featured in the top 30 patent applicants, with the Chinese Academy of Sciences ranking 17th with over 2,500 patent families, Xinhua quoted the WIPO said.
AI for children
The ministry has also called for the promotion of programming classes among elementary and middle schools.
Another Xinhua report in November 2018 said a 10-volume textbook series on AI, published by East China Normal University Press, is being given to hundreds of schools across the country.
Students will learn the subject as an elective or part of a school-developed curriculum. Pilot programs have already begun in Shanghai, the report said.
Since AI education has received continuous support from the central government, the market for AI education has been prospering in China, especially among institutes catering to young children and teenagers, industry insiders noted.
Tongcheng &Tongmei, a private training institute in Beijing, offers coding and robotics classes to children from 6 to 18 years. It has opened more than 180 branches around China.
The coding class for 6-year-old children begins with playing games with Lego robots.
Teachers will show children how to give simple orders to the robot. Each class will have around six children, a training center staff told the Global Times.
Those older are taught programming and application designing. Children who perform well in coding have the chance to attend a national AI competition, the staff said. Teachers who give classes to children are college students majoring in programming, he said.
Industry insiders said coding training for children usually doesn't involve complicated codes, and focuses on teaching children the logic behind coding through visualized or gaming courses, which are easy for them to understand.
A Xiamen-based technology company specializing in developing AI robots for kindergarten students has been teaching students at over 800 kindergartens in China.
The AI robot serves as a teacher, which can offer various kinds of games for students via voices and videos. From every game, students will learn the AI and logic behind, and gradually they will get the notion of AI, Guo Changchen, the founder of Keeko Robot Xiamen Technology, told the Global Times on Sunday.
Guo believes kindergarten pupils should not learn AI for the sake of learning AI, instead, they should be infused the idea of AI in daily class.
Xiong Bingqi, deputy director of the Shanghai-based 21st Century Education Research Institute, warned parents to be rational toward programming training for their children by not using it to burden children, but to treat it as a hobby.
AI education should not be developed like the Math Olympiad, which has been viewed as a tool for material gain, Xiong told the Global Times on Sunday.
Cover file photo: VCG