UN panel calls for bridging digital divide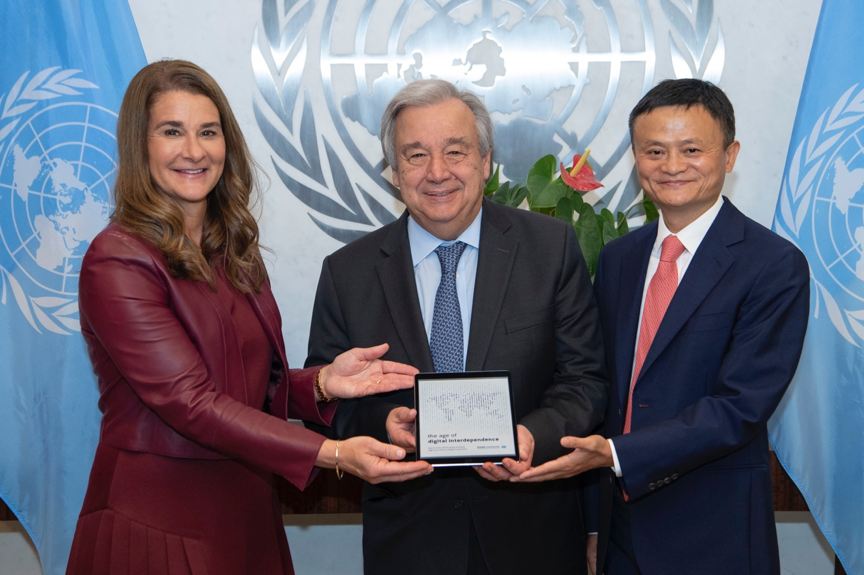 Secretary-General António Guterres (center) poses for a photo with Melinda Gates (left), co-chair of the Bill and Melinda Gates Foundation, and Jack Ma, executive chairman of the Alibaba Group, during the handover of the report of the High-level Panel on Digital Cooperation, on June 10, 2019. (Photo: Chinadaily.com.cn)
A latest report by a special panel under the United Nations has called for affordable access to digital networks and guaranteeing access to traditionally marginalized groups to ensure technological benefits reach all levels of society.
The UN High-Level Panel on Digital Cooperation called for multilateral cooperation among governments to deliver progress on that front, while emphasizing the need for broad participation from stakeholders.
The panel is co-led by Alibaba Group Executive Chairman Jack Ma and Melinda Gates, co-chair of the Bill & Melinda Gates Foundation.
"Global cooperation among all parties – private sector, government, citizens, academics and civil society – is needed to use technology to achieve more prosperity, more opportunity, and more trust for people around the world," Ma said.
"We need to focus especially on making technology inclusive so more women, young people, rural populations, small businesses and developing countries can benefit. We also need to rethink our education systems so they will prepare our young people for the future, instead of for yesterday," he said.
The report brought together recommendations for best practices in five areas, namely capacity-building, human rights, digital trust and security, and global digital cooperation.