Shanghai debuts AI incubator
Shanghai has unveiled its first dedicated artificial intelligence incubator as part of its push to make AI a cornerstone of its industrial transformation.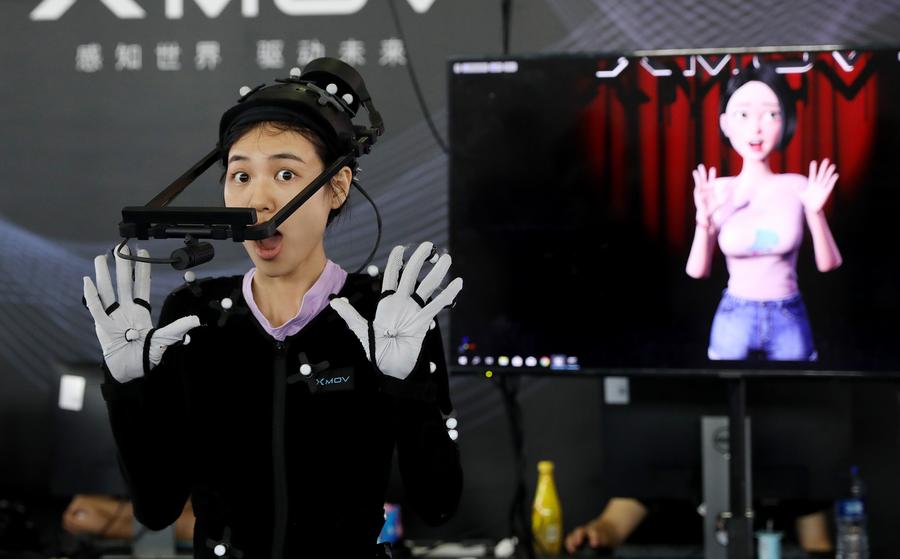 A staff member demonstrates a gesture capturing system during the 2019 Consumer Electronics Show (CES) Asia in Shanghai, June 11, 2019. (Photo: Xinhua)
Launched in Shanghai's Wujiaochang, an area home to multiple leading research houses such as Fudan University and Tongji University, the first 3,000 square-meter AI Space serves as an accelerator to turn abstract AI ideas into prototypes and potentially into tangible products.
Backed by the Shanghai Commission of Economy and Informatization, the facility will provide working space, data bases, technical support, financing and resources match-making with application scenarios. Such a model will be duplicated across the city in due time.
Five AI startups have signed memoranda of understanding with the first AI space, covering areas from the combination of AI and medical care, education and big data.
The incubator was launched earlier this week on the same occasion when the city announced the setup of a series of awards, dubbed SAIL, dedicated to an AI-themed contest, whose results will be announced ahead of the 2019 World Artificial Intelligence Conference in August.
"The SAIL awards are not only an influential part of the WAIC competition, but an important carrier in the integration of industries, universities, researches and application in the field of AI," said Zhang Ying, chief engineer of the Shanghai Commission of Economy and Informatization.
With four subcategories, the SAIL awards are expected to facilitate the development of AI and accelerate its transformation from concepts to reality.
Official statistics showed that the city is already home to 1,000 companies with AI as its core business. According to a plan issued last year by municipal authorities, Shanghai is looking to lead the pack by becoming a global AI hub, with plans to expand the scale of its industry to more than 100 billion yuan ($14.4 billion) by 2020.