AI-driven ESG strategy presented at UN Forum, embracing sustainable development goals
People's Daily app
1581496606000
Global technology consensus was put on the agenda at the Tenth Session World Urban Forum held by the United Nations On February 8. As the forum brought together over 12,000 delegates from more than 150 countries, it also witnessed how ESG (Environmental, Social, and Corporate Governance) investment contributes to achieving The United Nations (UN) Sustainable Development Goals (SDGs) of the 2030 Agenda.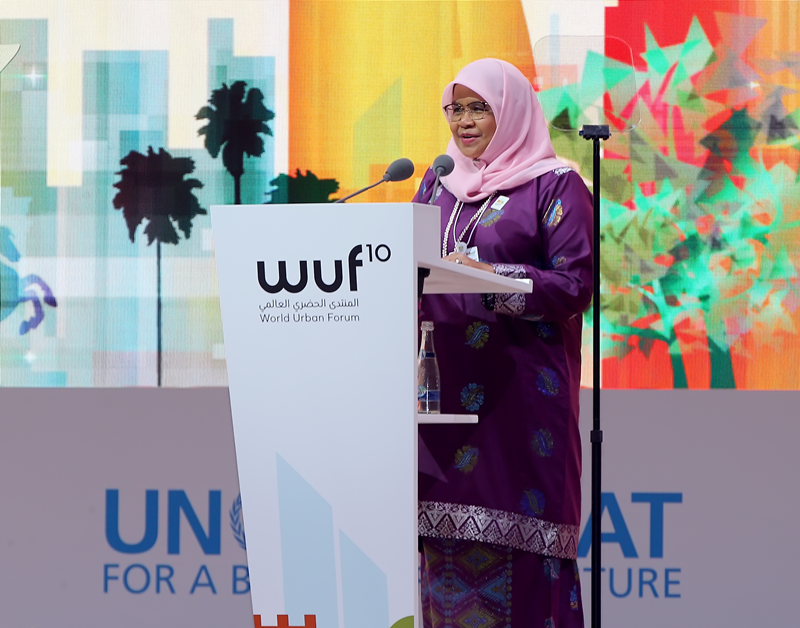 Remarks from Ms. Maimunah Mohd Sharif, UN-Habitat Executive Director (Photo: UN-Habitat/ Azeem Baig)
Multinational Delegates highlighted the role of data-driven ESG investment for sustainable finance innovation. As the first digital bank in China serving for over 170 million users and globally influential AI team, WeBank AI department was invited by Ms. Maimunah Mohd Shrif, executive director of UN-habitat to present practice in AI-ESG field, and contributed the chapter of Sustainable Finance and ESG investment embrace AI and Alternative Data to the publication by UN-Habitat.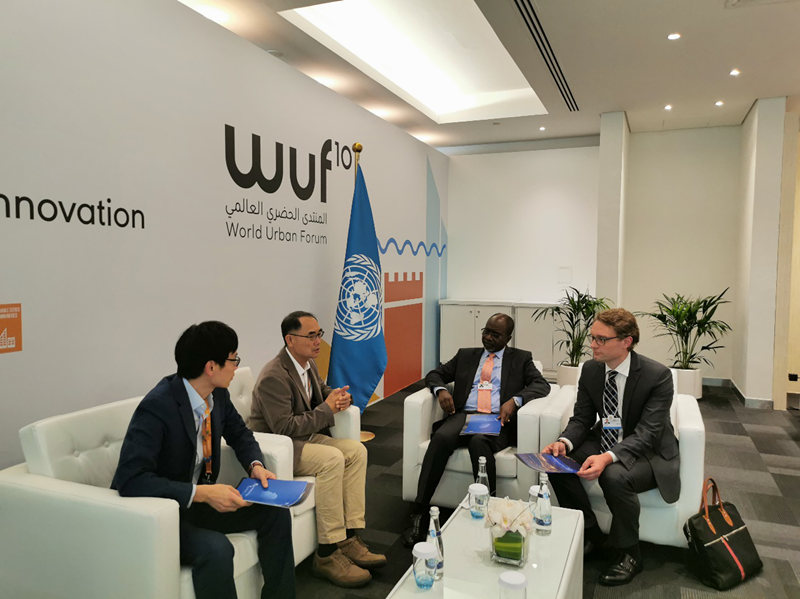 Meeting with Mr. Victor Kisob, Assistant Secretary-General and Deputy Executive Director of UN-Habitat
During the forum, Victor Kisob, Assistant Secretary-General and Deputy Executive Director of UN-Habitat met with delegation from WeBank AI department and spoke highly of WeBank's efforts on inclusive finance, AI-driven technology innovation and AI-ESG applications for achieving SDGs.
Webank AI Scientist Haishan Wu shared his initiated Senseable Economics at Business and Industry Roundtable Session, which refers to the use of artificial intelligence technology to mine sensor's big data and to realize real-time perception, quantification, and prediction of economic systems This is to provide decision-making methodology for some major sociological and economic problems.
Currently, the proliferation of new sensors and 5G technology, combined with the successful development of microsatellites, has produced a vast amount of spatiotemporal data, providing a new way to assess the development of sustainable investment.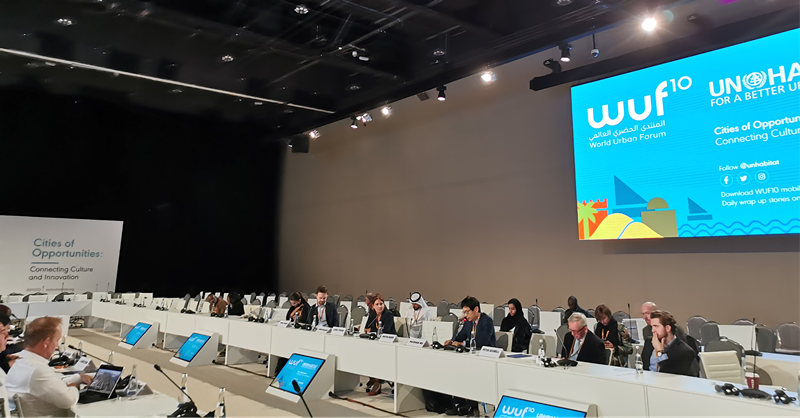 Dr. Haishan Wu Spoke at Business and Industry Roundtable
Dr. Haishan Wu mentioned the detection of photovoltaic power station. For example, the analysis of large-scale high-resolution satellite image data, can identify the distribution map of China's more than 500 photovoltaic power plants, a total area of 2000 square kilometres (equal to that of ShenZhen), and complete correlation analysis for the country and enterprises. This provides decision-making reference in renewable energy development. This may be the first attempt to use deep learning framework to reveal the location and size of China's solar power plants.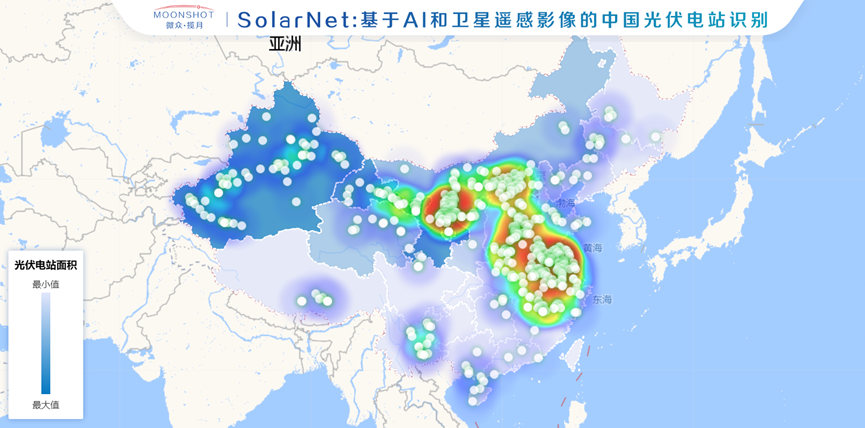 Distribution Map of China's Photovoltaic Power Stations based on AI and Satellite Remote Sensing Images (Photo: ms.webank.com)
The combination of Senseable Economics and sustainable investment goes far beyond that. Based on remote sensing images, unmanned aerial vehicles, spatio-temporal data, as well as the public opinion of "alternative" data such as data analysis, mining real-time, intelligent, and comprehensive information, real-time monitoring of macro-economic development trend, accurate diagnosis of urban development pulse, accurate quantitative business fundamentals closely track commodity trading, objective assessment of agricultural insurance losses, and the objective index of the ESG rating companies.
Remote satellite imagery would be monumental treasures. With the maturing of aerospace technologies, the satellite become smaller and the cost decline, while the launching amount increases and the data transmission tech becomes more steady. This achieves hour-period updates for earth monitoring. In the forthcoming five years, Commercial Satellite accounts for 70 percent and application of remote satellite imagery enters the period of booming.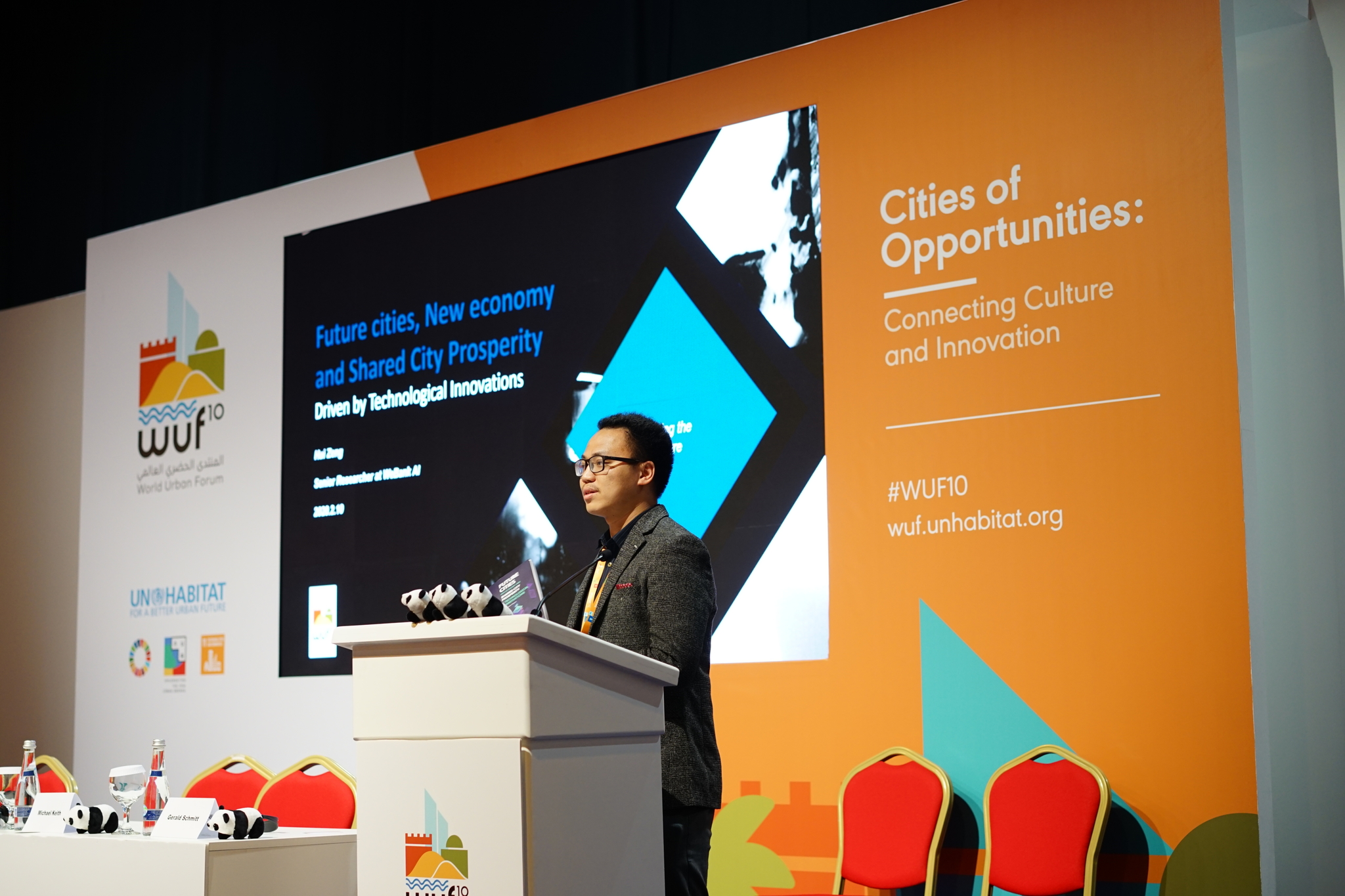 Launch of the publication at the forum
Climate change and resource scarcity are global challenges, and cities are the main battlefields. The concept of sustainable finance, represented by ESG (environmental, social and corporate governance) investment, has gradually been accepted by investment institutions around the world and has become the best application field for integrating innovative technological means and data capabilities.
ESG investment is currently facing global data shortcomings, but also a rare data value depression. This is where AI technology and alternative data come into play.
Technology has no nationality and no colour, but sustainable investment is a green race worth pursuing for all mankind. With this mission in mind, Moonshot team of WeBank AI department built China's first AI and alternative data-driven asset management technology platform represented by satellite remote sensing images.