Tianjin keeps high-tech hub goal in sights
Tianjin, a major northern port city, has witnessed positive outcomes in its efforts to pursue high-quality development, and the city will continue working to boost productivity and seek new momentum to foster green and sustainable development, according to its city government.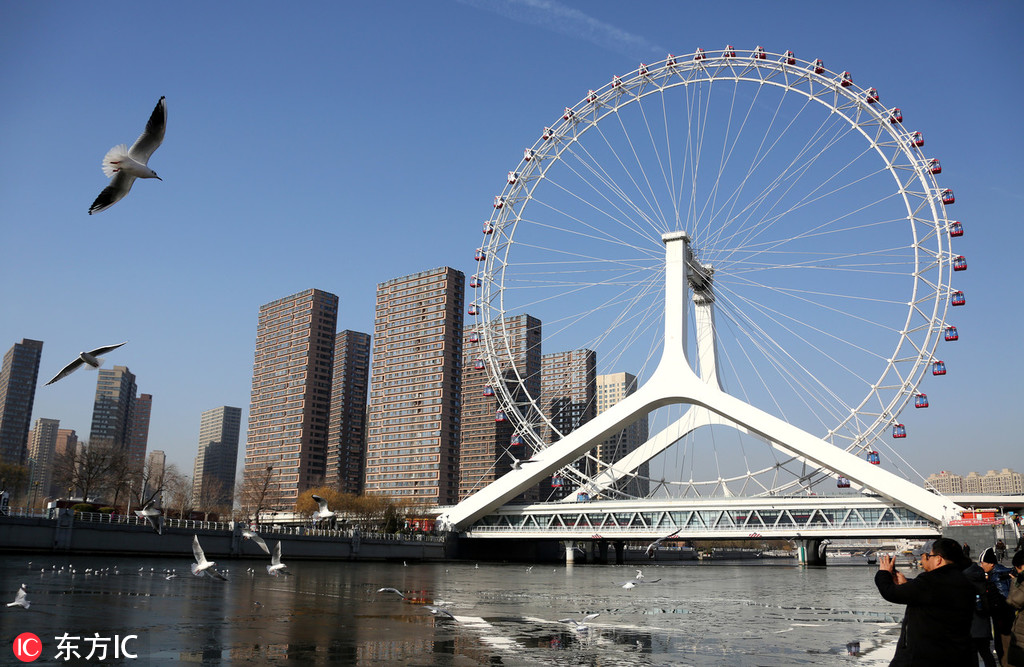 Tianjin Eye, a giant Ferris wheel, is seen over the Haihe River in Tianjin, on Dec 19, 2018. (Photo: IC)
"We've made great achievements in the field of smart technologies, buoyed by a group of leading tech firms and research institutes," said Zhang Guoqing, mayor of Tianjin. "Next, we will ramp up efforts to build the city into a national advanced manufacturing research and development base as well as a hub of strategic emerging industries."
Zhang made the remarks on Monday at a State Council Information Office news conference held in Beijing.
According to him, the city will make a big push to transform and upgrade traditional industries, thus creating new growth and bringing about innovation-driven development.
More efforts are needed to foster the high-end industrial chain, introduce more innovative high-tech companies, create a high-tech and high-end innovation platform and pursue the application of smart technologies, Zhang noted.
In the first half of this year, the city's GDP surged 4.6 percent year-on-year to about 1.04 trillion yuan ($150 billion), official data showed.
During that period, value-added industrial output in Tianjin surpassed 417 billion yuan, up by 3.5 percent year-on-year.
Specifically, valued-added automobile manufacturing output and specialized equipment manufacturing surged by 11.7 percent and 18.2 percent respectively.
Now, Tianjin is shaping up to become a high-tech hub, having rolled out a series of supportive policies to develop the blossoming artificial intelligence sector as it aims to inject new impetus into the city's economic growth.
Last December, Tianjin unveiled a three-year plan to boost the innovative development of seven AI-related industrial chains, including the independent and controllable information system, smart security, big data, advanced communications, intelligent connected vehicles, industrial robots and intelligent terminals.
The new plan aims to complete the transformation of the city into an AI innovation center and a hub of AI industries and AI innovative applications in 2020.
Last May, Tianjin set up a 100 billion yuan fund to invest in AI technologies, focusing on emerging fields including robots, smart software and hardware as well as intelligent vehicles.
Buoyed by supportive government policies, Tianjin has attracted a wide range of companies to expand in the booming smart technologies market, including Sugon, Huawei, Lenovo and Inspur.
Sugon, a leading Chinese supercomputer manufacturer, is beefing up efforts to build a national-level advanced computing innovation center in Tianjin, considering the burgeoning demand for computing power. The center is set to be completed in 2021.
"We will promote the integration of advanced computing with industry applications," said Ren Jingyang, senior vice-president of Sugon. He noted such computing technology will have broad application prospects in emerging sectors.