China's coronavirus vaccine facility ready to make millions of doses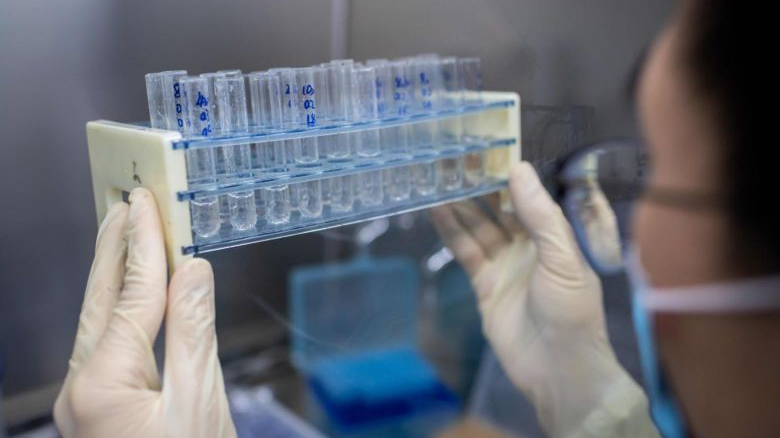 A research at China's Sinovac Biotech Ltd (Photo: AFP)
When the world scientists are racing against time to develop vaccines, a Chinese firm announced they have built the world's largest vaccine plant with the annual capacity reaching 100 million doses.
The Fourth Construction Co., Ltd. of China Electronics System Engineering made the statement on Monday, claiming a production facility with bio-safety level 3 (BSL-3) is ready to mass produce vaccines once one has been proven to be safe and effective.
According to global standards, BSL-3 is used for work involving microbes which can cause serious and potentially lethal disease via the inhalation route, for instance, the respiratory diseases like SARS, MERS. This type of work can be done in clinical, diagnostic, research, or production facilities.
As one of the contractors constructing a BSL-3 production facility, the Hebei-based company is mainly responsible for structural steel design and construction, air conditioning engineering, water supply system, and etc.
The company, found in 1953, has more than 80 percent market share in constructing the facilities for global biomedical companies. The projects they have undertaken involve vaccines, blood products, antibodies, cell therapy, and insulin.
In April, China's Sinovac Biotech Ltd, which has approval to begin clinical trials of an experimental vaccine for the new coronavirus, also declared it plans to have a new production facility ready this year after quickly obtaining land and loans.
According to Reuters, its Beijing-based unit aims to make up to 100 million shots a year if the vaccine is shown to be effective. If it isn't successful, the buildings and equipment will be used to make other types of vaccines.
It had already secured access to more than 70,000 square meters of land and property sourced for the firm by the Daxing district government in Beijing, a Sinovac official told Reuters
Facility is ready, when will the vaccine?
In the latest document Draft landscape of COVID-19 candidate vaccines released by the World Health Organization on May 11, eight candidates have entered into clinical evaluation, with four of them developed by Chinese researchers.
The fastest gamer, Adenovirus Type 5 Vector, with the method used by the same team to successfully develop an Ebola vaccine in 2017, has run into the second phase of clinical trials.
The lead developer Chen Wei on April 25 revealed to Chinese media that 508 volunteers have been inoculated during the second phase, and are now under observation. If all goes well, the results will be given out in May.
According to the World Health Organization last month, a COVID-19 vaccine is still at least 12 to 18 months away.
Read more: Graphics: How soon can we get a COVID-19 vaccine?
But in an interview with CGTN in April, Dr. Gao Fu, head of China's Center for Disease Control and Prevention (CDC), revealed a vaccine may be ready for emergency use by September. The first batch will be given to the frontline health workers.
Sarah Gilbert, professor of vaccinology at the University of Oxford, told the Times of London newspaper that their vaccines could also be available to the public by September.
She was "80 percent confident" the vaccine her team is developing will work, but noted such a time frame was "just about possible if everything goes perfectly," adding that nobody can promise it's going to work.