China's new rocket to send people to moon will be completed by 2030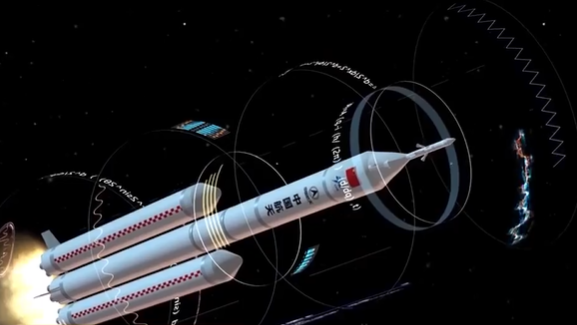 China is developing a new-generation launch vehicle to send astronauts to the moon, which will be completed by 2030, according to an aerospace scientist.
Long Lehao, a chief designer of the Long March carrier rocket series at China Academy of Launch Vehicle Technology, made the remarks at the ongoing China Space Conference held in Haikou, capital city of the southern island province of Hainan.
The new rocket will be 90 meters tall, and able to lift 27 tonnes of payload to the lunar orbit, CGTN learned from the Airshow China held in south China's Zhuhai City earlier this month, during which a model of the rocket was displayed.
The diameter of its core will be similar to that of the Long March-5 heavy-lift rocket, which is five meters, according to Long.
The Long March-5 is China's most powerful launch vehicle currently in operational service, with a maximum payload capacity of 25 tonnes to low Earth orbit (LEO). It has been used to send China's three space station modules – each weighing about 22 tonnes – into LEO.
In addition to the new rocket for manned mission, China is also developing a new crewed capsule and a lunar lander, which will be able to send three astronauts to the lunar orbit and allow two of them to land on the moon, said Zhou Jianping, the chief designer of China's manned space program.