Highly efficient auto throat swab robots introduced for COVID-19 tests
Global Times
1648773691000
Automatic throat swab robots have been launched in China to collect samples in COVID-19 testing, with reasonable sampling accuracy and efficiency. The developers said that they have gotten inquiries from several Chinese cities such as Omicron-hit Shanghai, and the robots could replace humans in this process in the future.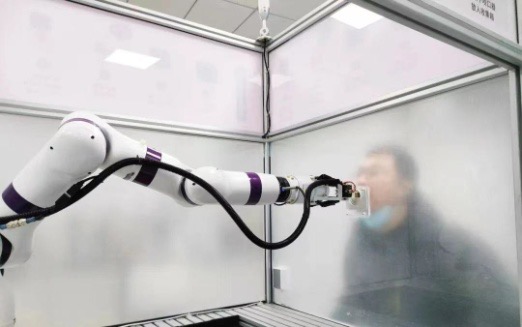 Jointly developed by the Advanced Mechanism and Roboticized Equipment Lab at Tsinghua University and engineers from Tsingke+ Research Institute, the robots were designed to ease the burden of medical workers in mass COVID-19 nucleic acid testing.
Developers said they are improving the throat swab robots based on feedback from the experiment and testing phases and will hand them over to the local authority in charge of pandemic control in Yantai Development Zone in East China's Shandong Province by the end of this weekend.
There is demand from some local governments and hospitals in Shanghai, East China's Anhui Province and Jiangsu Province, Central China's Hunan Province and South China's Guangxi Zhuang Autonomous Region, members of the Advanced Mechanism and Roboticized Equipment Lab in Tsinghua University, told the Global Times on Thursday.
The lab members said that the university has developed and possessed the robot technology since the outbreak of the pandemic in early 2020, but the robots have just become urgently needed due to the recent COVID-19 resurgence in multiple Chinese cities.
According to the researchers at Tsinghua University, it currently takes the robot 42 seconds to finish the sampling process for one person.
"Early experiments on volunteers proved the accuracy of the mechanical arm's automatic sampling, which showed no significant difference compared with manual sampling," said the researchers.
Developers said they will continue to speed up the robots' sampling efficiency, add testing and analyzing functions, and lower the costs, in order to prepare for the possible replacement of human operators in nucleic acid testing at sites including hospitals, communities, schools and traffic hubs including airports, harbors and train stations.
A research fellow at Tsingke+ Research Institute, who requested anonymity, told the Global Times on Thursday that the research team will continue to upgrade the auto throat swab robots to carry out the whole process of nucleic acid testing and accelerate the sample collecting speed to less than 30 seconds per person to further reduce medical staffers' work burden.
China's National Health Commission on Wednesday reported a total of 1,803 locally transmitted COVID-19 cases and 6,651 silent carriers, who were scattered among multiple cities.