Apple fails to present iPhone 12 due to 'strategic mistake' in 5G: analyst
Global Times
1600234737000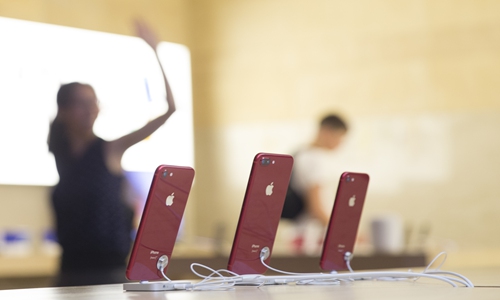 Phones and customers at the Apple Store in New York's Grand Central Terminal (Photo: cnsphoto)
Apple held its usual fall announcement on Tuesday, introducing a series of new products including new Apple Watch and a new iPad. However, there was a conspicuous absence during the event - the much-awaited iPhone 12.

Liang Zhenpeng, senior industry analyst, told the Global Times on Wednesday that he believes the main reason why Apple has not launched its iPhone 12 so far is because of the company's strategic mistake in 5G field.

The iPhone 12 was confirmed by Apple to be late in a call back in July, when it said the new phone will be late "for a few weeks than usual." Alongside its usual system updates and better exterior design, analysts have been predicting that the main addition will likely be 5G support.

"It wrongly judged that 5G mobile phone market could flourish, and it has not made enough technical research in 5G field at present, while other mainstream mobile phone manufacturers including Huawei have successively launched 5G mobile phones in the second half of last year," said Liang.

In addition, some people suggested that if Apple launches 5G iPhones, it has to pay the royalties to Huawei, which owns the highest amount of 5G technology patents in all mobile phone manufacturers and its technology is the most mature.

"Therefore, in this case, Apple doesn't have the strength to compete with Huawei in the field of 5G," said Liang. However, in order to catch up, he thinks that Apple could release the iPhone12 by the end of the year.

Currently, Huawei is reported to have over 3,000 patents in 5G technology, and has secured more than 90 5G deals with countries and regions around the world.

Although the delay in the launch of iPhone 12 has no particular connection with the US ban on Huawei which started to take effect on the same day on Tuesday, Liang said that Huawei also needs to speed up finding other chip alternatives since the shipment of its high-end mobile phones could be affected months after the ban.