IT sector seeing rebound as epidemic eases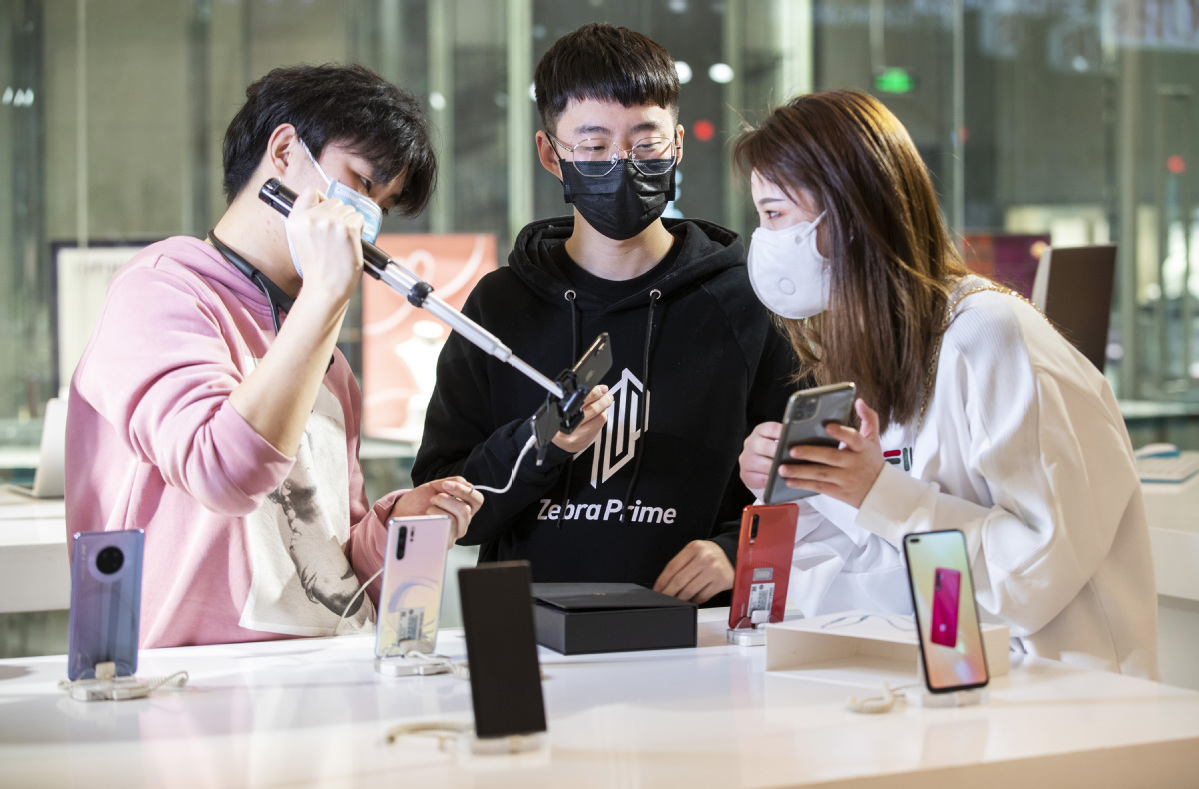 Sales people introduce mobile phone products to customers through livestreaming at a shopping mall in Zhengzhou, capital of Central China's Henan province, on March 13. (Photo: Xinhua)
Consumer electronics makers explore new channels partnering with food delivery companies, livestreaming platforms
Ma Bin, a software developer in Beijing, had a unique experience earlier this month. When buying a bowl of rice noodles via a food delivery app, he came across a link for a new 5G smartphone.
He ended up pushing the purchase button and in just half an hour, the smartphone was in his possession-along with the rice noodles.
"I was surprised. I never expected to buy a smartphone on a food delivery app and it arrived at my home so quickly," Ma said. Consumers in Beijing, Shanghai and Wuxi, Jiangsu province, can now buy smartphones on the food delivery app Meituan-Dianping.
As the COVID-19 epidemic comes under better control in China, consumers are reigniting demand for electronic devices like smartphones, tablets and smartwatches.
And local electronics makers are experimenting with new sales campaigns such as partnering with food delivery companies and livestreaming platform operators in hopes of hitching a ride on the consumption revival bandwagon.
Ren Zhengfei, founder and CEO of Huawei, said despite epidemic-related hardships, the company has managed to maintain growth in smartphone sales.
"Currently, we sell about 450,000 smartphones in China every day," Ren said during an interview in late March. "Starting from April, monthly sales are expected to reach 20 million units."
Sales of the Shenzhen, Guangdong province-based company's self-branded smartphones saw a 70-percent year-on-year jump in March, said Yu Chengdong, CEO of Huawei's consumer business group.
"Though sales declined in February, we saw growth in January and March, which helped maintain an expansion in the first quarter," Yu said.
Huawei's performance mirrors a broader trend in the nation's consumer electronics industry. As domestic demand rebounds after the COVID-19 epidemic increasingly comes under control, Chinese electronics companies are seeing a recovery in sales.
In March, over 21.75 million units of smartphones were shipped out of factories to the China market, marking a 240 percent surge from February, according to the latest data from the China Academy of Information and Communications Technology, a government think tank.
In particular, over 24 new 5G smartphone models hit the market last month, with domestic shipments of 5G smartphones exceeding 6.21 million units, which represented a 160 percent growth from February.
The National Bureau of Statistics said output from China's high-tech manufacturing sector grew 8.9 percent year-on-year in the first quarter, with production of computers, telecommunications equipment and other electronics products increasing 9.9 percent.
Lenovo Group Ltd, the world's largest personal computer maker, also said that as people stay at home for work and study, demand for PCs, tablets and displays is increasing. The growing demand for mobile games also provides plenty of opportunities.
Yang Yuanqing, chairman and CEO of Lenovo, said the company has a full product lineup and good relations with software providers. This helps it further become a one-stop supplier.
Huawei said that amid the coronavirus epidemic, remote work and learning are gaining traction, which have fueled demand for its personal computers, tablets and other devices. The company's sales volume for these devices has seen five to six times the growth of a year earlier.
Huawei also expects its consumer business group, which includes smartphones, tablets, smartwatches and others, to see growth in China this year.
Wang Xiang, president of Xiaomi Corp, said the company's experience in the China market shows consumers have a sustained demand for smartphones. Wang said the Chinese smartphone market is recovering faster than the company expected.
Peter Richardson, vice-president of market research company Counterpoint, said smartphones are now considered a vital part of daily life, especially for those enduring extended periods of self-quarantine or remote working.
"While people may delay purchases due to the coronavirus epidemic, especially in the early part of the crisis when levels of disruption and uncertainty are both high, they will still replace their smartphones at some point. This means that sales will not be entirely lost, just delayed," Richardson said.
Another Chinese smartphone maker Oppo said market demand is not as pessimistic as many expected.
"I think this year's global smartphone market may be flat like it was last year. In 2019, about 340 million to 360 million smartphones were shipped," said Wu Qiang, Oppo's global marketing president.
The return of demand for smartphones is also reflected in upstream suppliers such as chip makers. Semiconductor Manufacturing International Corporation recently raised its revenue guidance for the first quarter given an increase in product demand and product portfolio.
The company adjusted its year-on-year revenue growth guidance for the first quarter from 0 to 2 percent to 6 to 8 percent. Its gross profit margin guidance was also raised from 21 to 23 percent to 25 to 27 percent.
SMIC Chief Financial Officer Gao Yonggang said in an announcement: "Since the company initially announced first-quarter revenue and gross margin guidance, we have seen an increase in product demand and product portfolio. These have exceeded our earlier expectations."
Zhang Yang, a senior analyst at Urtrust ThinkTank Consulting Co Ltd, said as China accelerates 5G network construction, the second and third quarter will see a sales surge of 5G smartphones.
With the gradual lifting of quarantine measures in cities across China, buying enthusiasm among consumers will gradually increase. A batch of new 5G smartphone models will be released in May and June, and some prices will be below 2,000 yuan ($282), which will entice consumers to upgrade their handsets, Zhang said.
Xiang Ligang, director-general of the Information Consumption Alliance, a telecom industry association, said Chinese consumer electronics companies were hit hard in February. But as demand revives further in the coming months, they will see better growth.
The concern lies with other countries where the pandemic is not yet contained. This will continue weighing on global supply chains, and if the contagion lingers for an extended period, it will affect the production of Chinese consumer electronics companies, Xiang said.