Guangzhou planning urban air routes in 2021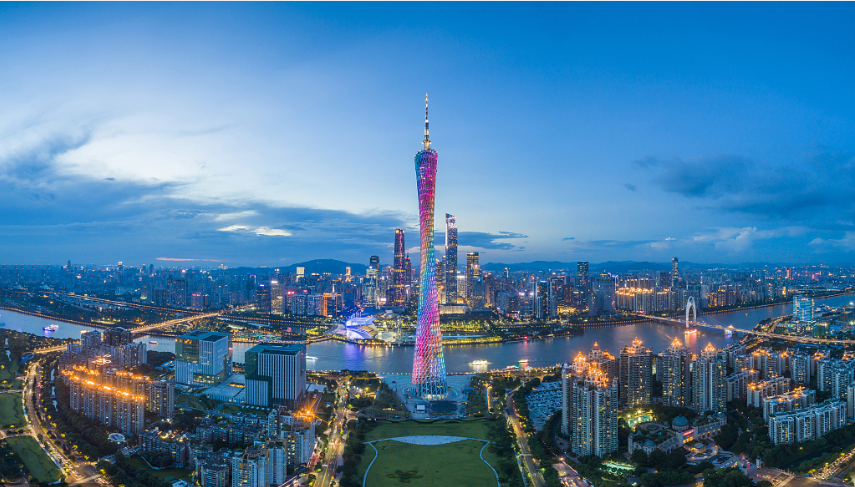 A night view of the Canton Tower in Guangzhou, Guangdong province, on July 30, 2019. (Photo: VCG)
Picture yourself going home after work on an autonomous aerial vehicle - a combination of drone and small helicopter - rather than being stuck in traffic.
That may soon become a reality as a Guangzhou-based company has announced it is cooperating with the local government to build a low-altitude aviation transportation network for AAVs.
Generally used to transport goods, "the network will shuttle passengers in a safe, fast, environmentally friendly, cost-efficient and intelligent way," said Hu Huazhi, founder and chairman of technology company Ehang.
The company, in cooperation with the Guangzhou government, will open the service to the public in 2021.
"We will launch pilot routes above the city roads this year," Hu said. According to Hu, the company has finished the development of an application to allow passengers to pre-order the flying service.
"Passengers are allowed to pick up the drones at a designated station downtown, with charges being almost the same as taking a taxi," Hu said.
He said the company is working with the local government to build more landing stations in the city in the following years.
Ehang, based in Guangzhou, has selected the city as its pilot city for the establishment of a low-altitude aviation transportation network.
As part of the pilot program, Ehang will help the local government set up a command-and-control center to ensure that multiple AAVs flying simultaneously can remain safe yet efficient. It will also help the city build the basic infrastructure to support urban air mobility, including by designing safety rules and market entry thresholds.
"As an emerging business, urban air mobility will become a key growth engine for us in the near future," Hu said.
On the passenger side, Ehang plans to use the pilot program to test more flight routes and vertiports based on practical scenarios before moving into real commercial operations.
In January, Ehang was picked by the Civil Aviation Administration of China as the country's first and only pilot company for passenger AAV development. Its AAV made its global debut in Vienna in April, carrying a total of 17 passengers in successive flights.
"As one of the four transportation hubs in the Guangdong-Hong Kong-Macao Greater Bay Area, Guangzhou has been very accommodating to innovation, which provides Ehang with the perfect ecosystem to build a smart urban air mobility market," said Chen Zhiying, vice-mayor of Guangzhou.