Coronavirus conspiracy is driven by political motives: Expert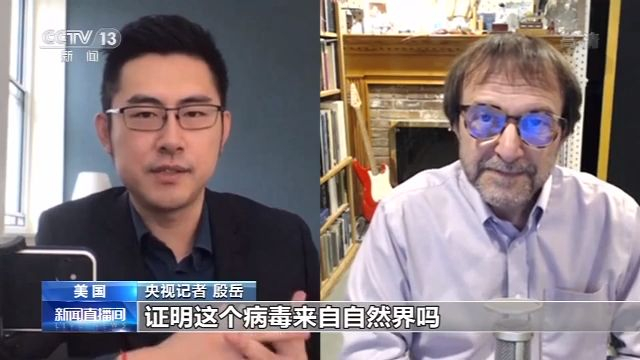 Vincent Racaniello (R), professor of microbiology and immunology in the College of Physicians and Surgeons of Columbia University, in an interview with a CCTV reporter. (Photo: CCTV)
Politics has been the motivation behind the conspiracy theory that the novel coronavirus was created in a lab, said Vincent Racaniello, professor of microbiology and immunology in the College of Physicians and Surgeons of Columbia University, in an interview with CCTV recently.
Placing blame on another country is "irrational," said the professor. "You should look at science."
Ignorance and a desire to place blame are two other motivators behind the conspiracy theories.
"Science is hard to understand for most people," Racaniello said. "When people don't understand science, then it's easier for them to turn to conspiracy, because they can understand the conspiracy."
People always want to put blame for things that happened. Many people cannot understand that this is a natural disaster, "so they want to blame someone, so they blame a laboratory," Racaniello said.
Plenty scientific data shows it's natural
To say the novel coronavirus came from a lab is "an accusation without any evidence," said Racaniello.
Plenty of scientific evidence has proven that the virus is from nature, just as the coronaviruses that cause SARS and MERS.
"Every human virus that we know of can trace back to some animal that had it originally," the professor stressed.
The sequenced genome of the novel coronavirus, or SARS-CoV-2, has indicated that the closest virus of it is a bat coronavirus isolated in 2013. Two other isolated coronaviruses also share very similar features with the new one.
It means, "Out there in the animals, there are SARS-like viruses circulating. They have recombined to form the current SARS-CoV-2 which then acquired additional changes to be able to infect humans," Racaniello explained.
"All the data are there… The signature of this virus coming from a bat virus is very clear," he highlighted.
If it were man-made…
If it were man-made, the virus would look like some existing viruses in laboratories, Racaniello said.
For creating a virus, the person cannot start from zero, but with something that already exists.
The SARS-CoV-2, however, doesn't look like any of the known ones.
"This is the key," the professor said. "We have no such virus that's close to this. This is completely new when it emerged, and obviously came from nature."