Industry aims to wean itself off US technology amid trade war
Global Times
1577748311000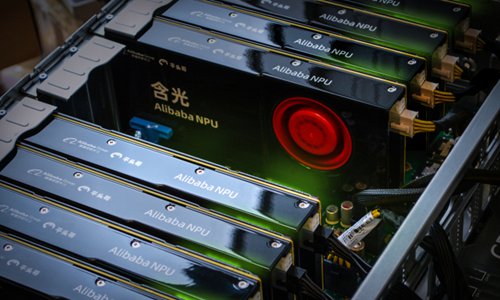 A view of Alibaba's AI chip Hanguang 800. (Photo: Global Times)
China has made up its mind to become self-sufficient in chip technology. Amid a boiling trade war with the US that disrupts the global supply chain, China's chip industry is witnessing a sweeping change, with investment plowing in apace and breakthroughs being made in high-end chips that will significantly reduce reliance on imports.

In the latest move, China's government-funded "starlight chip project" announced on Monday that it plans to invest 10 billion yuan ($1.43 billion) in the next decade on chip technology research, standard-setting study, application development and large-scale industrialization.

Launched in 1999, the project has applied for more than 3,000 patents and formed several chip technological systems including digital media, intelligent security and artificial intelligence.

The project is a vivid example of how the investment is shaping China's semiconductor industry this year, in particular after Washington's brutal crackdown on Chinese tech companies like Huawei and ZTE that could potentially cut off key US component supplies.

In October, China set up a second national semiconductor fund of 204.2 billion yuan in a bid to nurture the domestic chip industry, a 47-percent increase of the scale of investment compared with the first fund of 138.7 billion yuan, according to media reports.

"Chinese industry insiders and authorities are giving the biggest-ever incentives to the homegrown chip industry. We all feel a sense of urgency to wean ourselves off foreign technology, spurred by a spiraling trade war," a manager of a Beijing-based chip start-up who spoke on condition of anonymity told the Global Times on Monday.

The whole industrial chain has been shifting its attitude on chips made by Chinese suppliers, according to the manager.

"In the past, downstream vendors tended to prefer foreign chips over homegrown ones. Now, they gravitate toward ours and are willing to help us in accommodating, testing and even in improving functions," he explained.

The industry-wide effort has helped to fuel a boom in the design of advanced computer and smartphone chips. It has also led to a rapid expansion of the market share of homegrown memory chips.

In September, Huawei's HiSilicon unveiled its latest mobile application processor - the Kirin 990. The chipset series is widely believed to be the world's most powerful mobile system-on-chip, with performance surpassing its foreign competitors such as Qualcomm.

"Huawei's Kirin series represents a major breakthrough in the chip industry. It shows that Chinese players have the ability to design all ranges of chips and their gap with leading foreign players is closing," Xiang Ligang, an expert in the telecoms industry, told the Global Times on Monday. "We just need some time to forge industrial chain ability."

China is on track to achieve its goal of being able to produce 40 percent of the semiconductors it uses by 2020 and 70 percent by 2025. Chinese firms currently supply more than 15 percent of the semiconductors used in the nation, industry insiders estimated.

The nation is also one step closer to producing about 5 percent of the world's memory chips by the end of 2020 from virtually none in 2018, the Nikkei Asian Review reported, quoting sources close to the matter.

But observers admitted that Chinese firms' chip manufacturing abilities are years behind their rivals due to their late start. China's largest chip manufacturer, SMIC, has reportedly begun mass production of chips using its 14-nanometer FinFET manufacturing technology, while top foreign players such as Samsung and Intel already are in a race to supply 7-nanometer chips to the market.