Badaling Great Wall swarmed with tourists on May Day holiday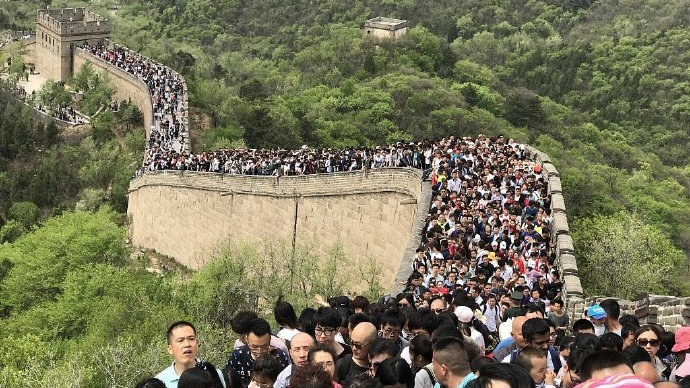 The Badaling section of the Great Wall in Beijing is swarmed with visitors, May 1, 2019. (Photo: Chinanews.com)
The Badaling section of the Great Wall in Beijing welcomed 54 thousand tourists as the May Day holiday commenced, creating a jaw-dropping view of a "great wall of people."
It's not the first time that the Badaling Great Wall enjoyed such popularity. The past holidays also witnessed the fully packed Great Wall that has gone viral on social media.
"I have seen the online video for several times, and today I decided to pay a special visit here to have a look myself," said a citizen named Yang, who brought his family to climb the Great Wall.
A steep slope known as "Haohanpo" or the Hero Slope is the hottest spot where volunteers and security guards are placed to guide and ease the passenger flow.
As a result of the surplus of tourists, a large amount of garbage was cleared away from the tourist site yesterday with a total of 7.2 tons of solid waste and 11 tons of liquid waste.
"We have to carry the garbage left by the tourists all the way down the mountain," a cleaner said.
In order to get ready for the enormous number of visitors, eight consulting service stations, 13 parking lots, 16 public restrooms, four entrances, 15 aisles and seven exits are put into use, together with over 1,000 staff.