Outbound Chinese tourists favor cosmetics during National Day holiday
Cosmetics, practical goods and local specialty foods were the top three items for outbound Chinese tourists during the National Day holiday, according to a report by online travel service platform ly.com.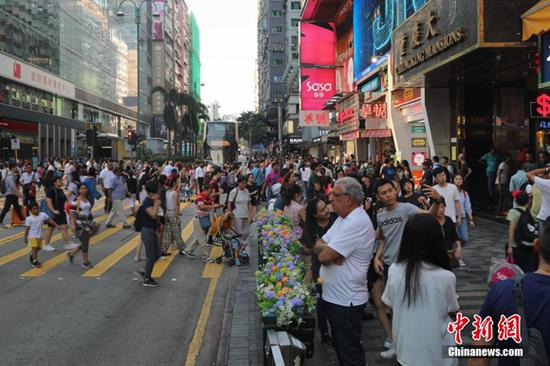 Tourists visit Hong Kong during the National Day holiday. (Photo: China News Service)
Data shows that watches and household appliances dropped from the top three and that Chinese tourists abroad also no longer favor rice cookers and toilet covers.
The report said consumer changes were mainly a result of rapid development of China's large-scale global shopping platforms, as well as duty-free shops in places like Sanya City of Hainan Province and free trade zones across the country.
Popular destinations during the seven-day holiday included Thailand, Japan, Australia, New Zealand, Russia, Canada, the United States, France, the United Kingdom and Italy. Morocco, Egypt, UAE and South Africa are also gaining popularity among Chinese tourists.
Hong Kong and Macao remained popular choices for short-term outbound journeys by mainland residents.
Outbound travelers were mainly from cities including Shanghai, Beijing, Guangzhou, Hangzhou, Nanjing, Suzhou, Chengdu and Wuhan. Overseas travel saw the clearest growth in middle and central China, including Zhengzhou, Xi'an, Chongqing and Taiyuan.