Airline passengers face return of surcharges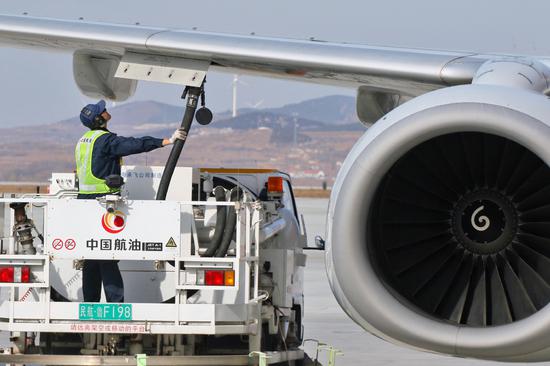 An employee refuels an aircraft at Yantai Penglai International Airport in Yantai, Shandong Province. (Photo by Tang Ke for China Daily)
Domestic carriers reintroduce fuel levy as oil prices reach regulatory threshold
A group of domestic airlines reinstated fuel surcharges for passengers on Tuesday, the first such move after three years of exemptions, as oil prices continue to rise.
The threshold to restart levying the surcharges is an oil price of around 5,000 yuan ($781) per metric ton, which has now been hit.
State-owned carriers Air China Ltd and China Eastern Airlines Corp Ltd announced that from June 5 onwards, they will charge 10 yuan per passenger for domestic routes of any distance. Before, they applied different surcharges for different route lengths. Children, toddlers and military personnel with disabilities will be exempt from the charge, according to the companies' statements.
Hainan Airlines Co Ltd, Spring Airlines Co Ltd and Kunming Airlines Co Ltd have announced similar charges.
"The oil price rise will have a negative effect on domestic airlines. They are very susceptible to fluctuations in oil prices," said Li Xiaojin, a professor of aviation economics at the Civil Aviation University of China in Tianjin.
"Oil prices are unlikely to drop or surge significantly. Airlines could take some steps to hedge against the risks and take measures to reduce oil consumption, as the impact is likely to be long-term," he said.
In February 2015, Chinese carriers canceled fuel surcharges for domestic flights after oil prices dropped to six-year lows, pushing fuel costs to below a government-set level.
In the first quarter, major Chinese airlines reported strong earnings growth as surging travel demand and the yuan's appreciation helped offset adverse factors such as rising oil prices, industry insiders said. But, fuel costs remain the biggest cost for airlines, and rising oil prices have directly impacted their financial performance.
The Civil Aviation Administration of China allowed carriers to introduce the variable ticket price system earlier this year on more than 300 additional domestic routes, including flights connecting major first and second-tier cities.
"Due to the saturation of airspace resources, it's hard for carriers to add further capacity. It is becoming increasingly difficult for supply to meet demand, leading to an increase in flight ticket prices and income growth for operators," said Lin Zhijie, an aviation industry analyst and columnist at Carnoc, a Chinese civil aviation news website.
"Applying fuel surcharges is a kind of compensation for airlines' costs, driven by rising oil prices. The price of flight tickets is driven by the changing supply-demand relationship. These two aspects are not directly connected," he said.