The birthplace of nongjiale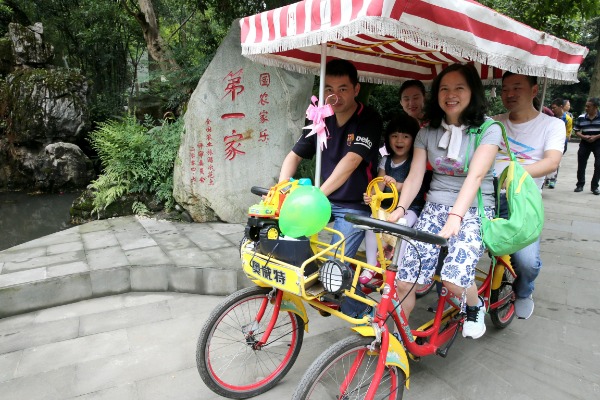 Visitors, mostly city dwellers from Chengdu, spend their weekends at Xu Family Courtyard in Nongke village in Pixian county.[Photo by Jiang Dong/China Daily]
The village recognized as the cradle of China's vast rural-entertainment sector has continued to expand, upgrade and diversify its offerings. Yang Feiyue reports.
Xu Jiyuan couldn't have imagined that a small courtyard he built in the 1980s would become the prototype for the nongjiale - farmers' houses turned into "agritainment" destinations, primarily as diners, culture centers and homestays.
The original Xu Family Courtyard was a simple rural residence with one-story grey-tiled bungalows on three sides in Nongke village in Pixian county on the fringe of Sichuan's provincial capital, Chengdu.
The buildings were constructed for Xu's sons to live in after marriage.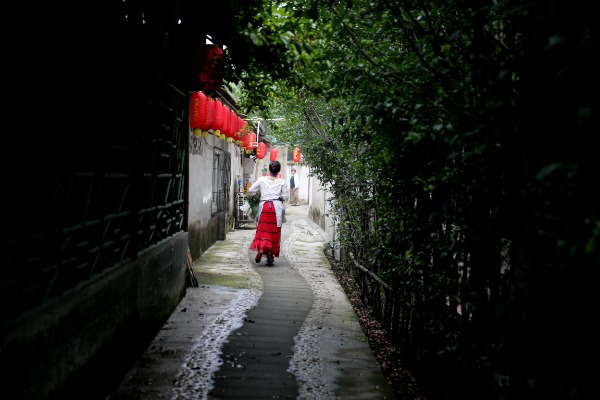 [Photo by Jiang Dong/China Daily]
But - through a series of unexpected events - the property became a 2.5-hectare scenic recreational area offering leisure, catering and accommodation about an hour's drive from downtown.
Rooms still feature old-fashioned furniture and such antiques as sewing machines.
People dine, sip tea and chat over wooden tables amid rockeries, pavilions, fountains and sightseeing corridors.
Newlyweds entertain guests. Children ride horses. Friends converse.
"We take friends who visit Chengdu here," says Liu Feng.
Over 100,000 people visited the courtyard last year.
Spending averages over 300 yuan ($47) per head, says Xu.
It typically serves about 35 tables a day.
Xu didn't expect to make money when he started treating guests in 1987. Visitors were mostly potential clients for his plant-nursery business.
"They came to see my seedlings. I'd usually treat them to lunch," he recalls.
He hadn't thought of making money then. But he did spruce up the property to enhance business opportunities.
Xu planted more trees. The area started to look like a garden.
His place became a landmark in the village. Then word spread.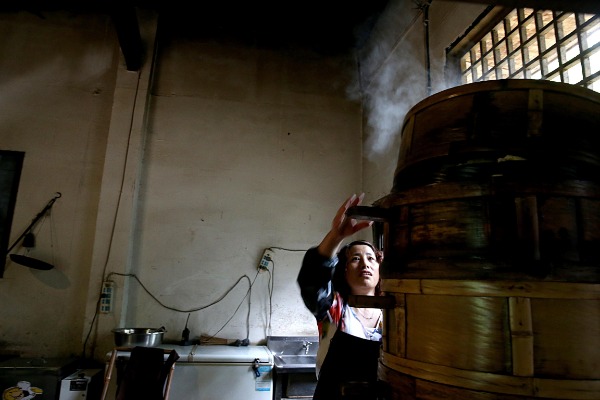 The nongjiale serves homemade dishes from bamboo steamers.[Photo by Jiang Dong/China Daily]
It became a stopover for officials visiting Nongke, largely by chance, Xu says.
"The road to Nongke was terrible," Xu recalls.
So, they'd stop at his eatery before making the long, rough ride out of the settlement.
Xu used to serve his guests homemade tofu pudding, preserved meat and chicken.
And he says he used to refuse payment.
"It's an honor as a farmer to treat guests, especially to food," Xu says.
Everything changed when the county hosted a national singing competition in 1988. Local authorities arranged for many visiting participants to dine at Xu's place.
He purchased ingredients to fulfill the orders and charged for the food since there was a large number of diners.
Soon travel agencies were knocking on his door to propose cooperation.
Xu then had more customers than his nongjiale could accommodate.
And his success inspired other households to set up shop. Incomes increased in the village.
Later, outsiders visited Xu's place and set up even better furnished and managed establishments outside the village, creating competition.
He started to feel anxious and made a drastic move.
"I invested 2 million yuan - all my savings - to improve my courtyard," he recalls.
He planned the landscaping, dishes and services. He built two large villas for leisure and meetings in 2004.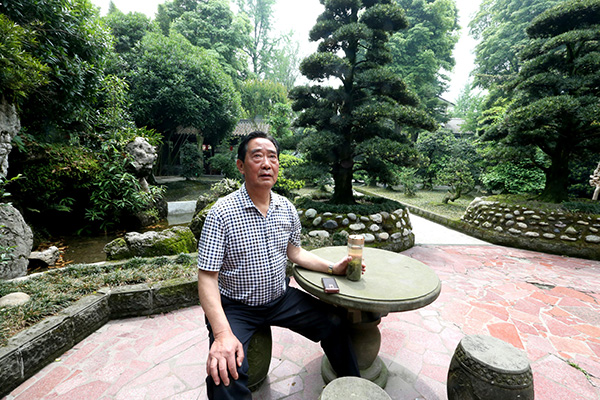 Xu Jiyuan turns his family courtyard into an "agritainment" destination in the 1980s, creating the prototype of the nongjiale.[Photo by Jiang Dong/China Daily]
The local government supported him. It began to build roads and do landscaping.
Other villagers also began developing menus featuring local specialties. The settlement's nongjiale business was booming.
Xu has continued to improve his business since he understands challenges can arise. He continues to run his seedlings business and cultivates bonsais for sale.
He also travels with his cooks to expose them to new fare and requires them to develop a new dish every month.
The National Tourism Administration named Xu's Family Courtyard as China's first nongjiale in 2006.
But he didn't rest on his laurels.
He built a five-star village hotel in a 1.3-hectare resort connected to the property in 2011.
The hotel offers a bar and games, and hosts business and wedding services.
Xu and other households in Nongke banded together under the local government's guidance to establish the Nongkecun Scenic Spot Management Co in March.
Authorities hope the company can integrate and upgrade the nongjiale scattered throughout the village.
"We'll develop many distinctively themed homestays and courtyards," the company's general manager Fan Guohui says.
Themes include art, pottery, traditional Chinese medicine, rockeries and automobiles, Fan explains.
Some of the plans have been settled, and the places are scheduled to open in October.
Pixian native Yu Shitou has rented a 400-square-meter yard in Nongke village for 20 years.
He plans to build a cultural area in his inn with a library, Chinese zithers, calligraphy, painting and tai chi.
The 41-year-old has previously worked in the publication, tea, TCM and music businesses.
Yu is confident in his prospects. He expects to benefit from the area's reputation as the cradle of nongjiale and the upcoming opening of a nearby subway stop and highway.
He's also planning to expand his courtyard to feature an "entry-lux" destination with bonsai that targets younger travelers and will offer accommodation next year.
Indeed, it seems the birthplace of China's nongjiale has continued to grow up and is poised to mature even more quickly in the near future.