Tibet ready to welcome mountaineers' spring rush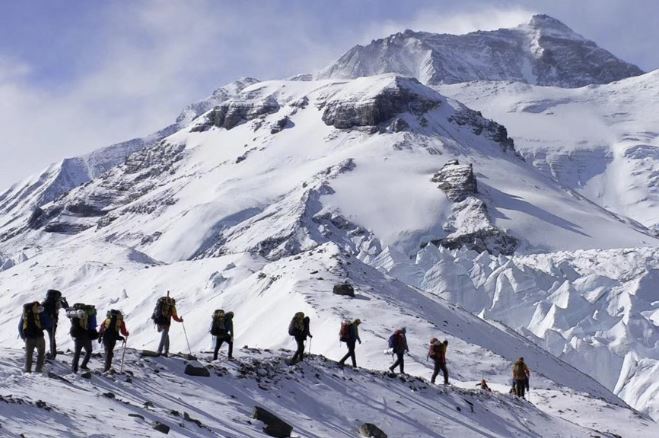 Climbers remove trash from Mount Qomolangma in the Tibet autonomous region last spring. (Photo: China Daily)
The Tibet autonomous region has started its annual spring mountain climbing activities this week in expectation of welcoming 469 participants, the Tibet Mountaineering Sports Management Center said on Wednesday.
The center, also known as the Tibet Mountaineering Association, held a ceremony on Monday for mountaineering reception crews to start the season in Lhasa, the region's capital.
This year's spring mountaineering activities will take place on the region's 8,201-meter Mount Cho Oyu and on Mount Qomolangma, the world's tallest at 8,845 meters, also known as Mount Everest in the West.
"This spring, the region is expected to welcome 469 domestic and overseas visitors taking part in climbing, trekking and mountaineering guiding," said Sonam, the secretary of the Tibet Mountaineering Association. He, like many in the region, uses one name.
The overseas participants come from 33 countries, Sonam said. Foreign participants will enter the region at Gyirong on the Nepal border on April 4 to get ready.
In 2018, the region received 752 climbers, mountain guides and support crew members from 36 countries for its spring and autumn climbing seasons, according to the center.
Qomolangma draws a huge amount of attention globally from climbers and tourists. This spring, 144 overseas and 12 domestic climbers will attempt to conquer the mountain, and 208 Nepali Sherpa guides will work on the mountain.
Mount Cho Oyu, the world's sixth-highest mountain, will receive 17 people from overseas this spring, including climbers and two international mountain guides. Fourteen Nepali mountain guides will be assisting on Mount Cho Oyu.
Apart from climbing, 73 overseas participants will be trekking near the 5,200-meter Qomolangma Base Camp, some of them will work as support crew at the camp, and the trekking activity will have one participant from Taiwan.
Nyima Tsering, head of the Tibet Sports Bureau, said China's highest peaks are all in Tibet, and the region is key to the country's mountaineering activities.
According to the region's mountaineering record-keeping, more than 300 climbers reached Qomolangma's summit over the past six decades, and over 2,300 reached the summits of peaks above 8,000 meters. The region's mountaineering team has hosted over 20,000 climbers, including international mountaineers from 40 countries, in the past eight years.
The region has been making big efforts to prevent pollution and damage brought by mountaineering. Since 2017, regular large-scale cleanup activities have been carried out during the climbing seasons.
The autonomous region carried out three large-scale trash collection projects last year, gathering 8.4 metric tons of various mountaineering-related trash left on the mountain.
"We organize an environmental protection team and local people to carry out the cleanup work in the areas between altitudes of 5,200 meters and 6,500 meters," Sonam said.
He said the climbers and mountain guides are required to bring back their own trash in areas above 6,500 meters, and each climber is required to retrieve 8 kilograms of trash.
"If climbers cannot meet the 8 kilogram requirement, they will be fined and those who bring more will be rewarded," he said.
"Starting this year, we will not allow individual climbers because more than 80 percent of the region's mountaineering accidents have occurred with individual climbers," he added.
The region has five mountains above 8,000 meters, more than 70 above 7,000 meters, and over 1,000 above 6,000 meters.
Only 46 peaks are open to mountaineers, and the removal of rubbish is required whenever a climb takes place.