China-Laos railway's 1st bridge span completed over Mekong River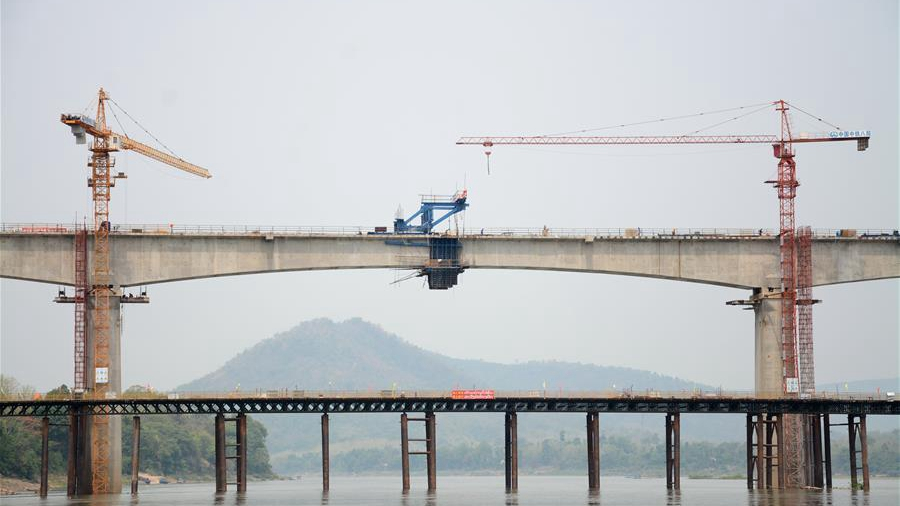 The Luang Prabang cross-Mekong River railway bridge in northern Laos, May 21, 2019. (Photo: Xinhua)
The first bridge span of the China-Laos railway has been built over the Mekong River in northern Laos, the Laos-China Railway Co., Ltd., in charge of the construction and operation of the railway, said on Tuesday.
Accordingly, the China Railway No. 8 Engineering Group (CREC-8) has completed the closure of the first span of the Luang Prabang cross-Mekong River railway bridge on Saturday. It is also the first completed bridge span of the two cross-Mekong bridges of the railway.
The 1,458.9-meter-long Luang Prabang cross-Mekong bridge, some 220 km north of the Lao capital Vientiane, is a key project of the China-Laos railway. Despite high risks and difficulties in construction, five main piers of the bridge have been planted in the Mekong River.
The construction site of the Ban Ladhan Railway bridge, a section of the China-Laos Railway, October 18, 2018. /VCG Photo
The China-Laos railway crosses the Mekong River twice, with Luang Prabang and Ban Ladhan bridges under construction by the Chinese engineering company CREC-8.
The 414-km-long railway links Mohan-Boten border gate in northern Laos and the capital of Vientiane with 60 percent of its construction being bridges and tunnels.
The China-Laos railway has been hailed as a project of interconnectivity. The building of tunnels, bridges, roadbeds and other sections has progressed smoothly since December 2016.
The operating speed of trains on the route is designed to be 160 km per hour. The railway is expected to be fully operational in December 2021.