Indonesia volcano in 'biggest' eruption this year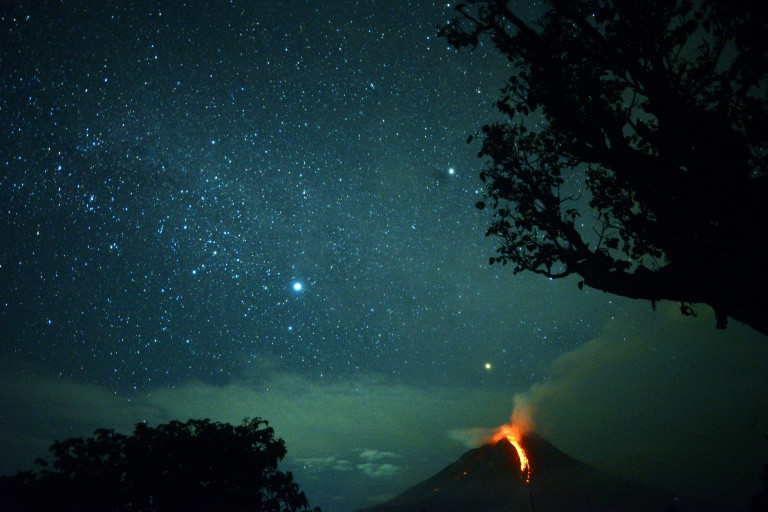 The volcano, which roared back to life in 2010 after four centuries of silence, has been erupting steadily since 2015. Photo: AFP
Indonesia's Mount Sinabung volcano experienced its biggest eruption of the year this week, spewing clouds of gas and showering ash into the sky, a local official said Friday.
The volcano, which roared back to life in 2010 after four centuries of silence, has been erupting steadily since 2015, displacing more than 3,000 families.
Wednesday's eruption "was the biggest eruption this year, given the reach of the pyroclastic flow and the size of the area covered by the ashes", local disaster agency chief Nata Nail told AFP.
Thousands were affected by the shower of volcanic ashes on the island of Sumatra but no one was severely injured because the dangerous zone was vacated earlier, Sutopo Purwo Nugroho, a spokesman for Indonesia's disaster mitigation agency, said.
The eruption sent volanic ash down Sinabung's slopes, destroying crops and causing misery to hundreds of farmers.
In May last year seven people were killed when Sinabung erupted, while a February 2014 eruption left 16 people dead.
Another Indonesian volcano, Mount Agung on the tourist paradise of Bali, has also been rumbling since September, forcing the evacuation of 140,000 people living nearby and prompting the closure of the island's international airport.
Indonesia, the world's most active volcanic region, lies on the Pacific "Ring of Fire" where tectonic plates collide, causing frequent volcanic and seismic activities.