Chinese travelers to pass customs checkpoints in 30 minutes
The State Immigration Administration has made it a goal to allow Chinese citizens to complete entry and exit procedures within 30 minutes at the country's customs checkpoints, said Guo Lin, spokesman of the Ministry of Public Security.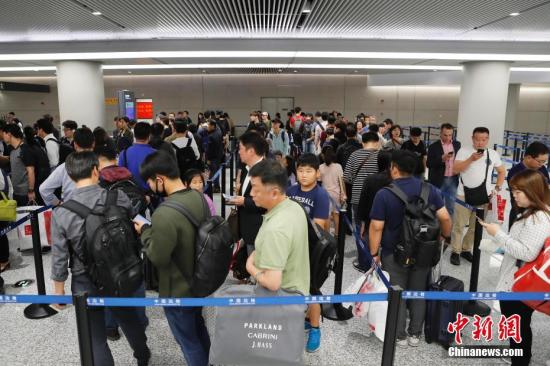 People wait to pass through a customs checkpoint. (File photo: China News Service)
Guo said Chinese citizens in long lines at land, sea and air ports will wait for no more than half an hour starting from June 18, when Dragon Boat Festival commences.
The State Immigration Administration has recently conducted research at passport control and customs in major airports and ports adjacent to Hong Kong and Macao amid efforts to reduce time spent in queuing up, especially on weekends and during festivals.
Qu Yunhai, deputy head of the administration, said special channels for Chinese citizens will be established at ports with a large number of passengers entering and leaving the country.
Efforts will also be made to optimize the on-site service, streamline the process, strengthen the application of information technology, and promote self-service customs clearance to further facilitate the entry and exit of Chinese citizens, according to Qu.
The administration will request national border inspection agencies to ensure efficiency in dealing with foreigner entry and exit clearance, said Qu.