Palace Museums in Beijing, Taiwan see different levels of tourism
Global Times
1602660556000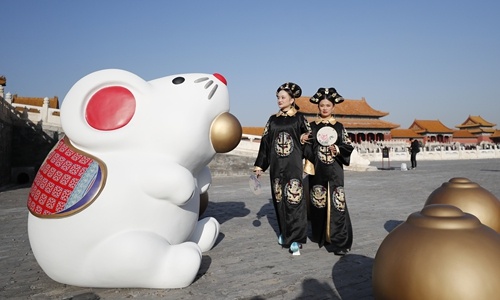 During this year's eight-day National Day holiday, the Palace Museum in Beijing raised the upper limit of tourist numbers to 30,000 to meet demand.
All tickets for the holiday period were sold out at the end of September, according to the official website of the Beijing Palace Museum, showing that the enthusiasm of visitors to the museum has been recovering.
Another Palace Museum in the island of Taiwan, however, has seen the opposite situation. After being named as one of the top 10 museums with the most visitors in the world in 2015, Taiwan's Palace Museum has seen a sharp decrease in visitors.
According to statistics on statista.com, more than 5.2 million people visited the Palace Museum in Taiwan in 2015 and the number decreased to 3.83 million in 2019, the year the Palace Museum in Beijing became the most visited museum in the world with over 19.3 million visitors.
"The main reason for the decline is that few tourists in the Chinese mainland have not visited the island," Yu Keli, director of the Chinese Academy of Social Sciences' Institute of Taiwan Studies in Beijing, told the Global Times on Tuesday.
Yu said that tourists from the Chinese mainland are the major part of visitors to the Palace Museum in Taiwan.
"When I first visited the museum in 1993, it was almost empty and until 2008 when three links (postal, transportation and trade links) were open, the museum was famous among visitors from the mainland and then became crowded."
The tension between the Chinese mainland and Taiwan after Tsai Ing-wen attained regional leadership stopped the prosperity and the COVID-19 epidemic around the world made the situation worse.
Originally founded within the walls of Beijing's Forbidden City in 1925, the present-day Palace Museum in Taiwan moved to Taipei following the Republic of China (1912-1949) government relocation in 1949. It officially opened to the public in 1965.