China's island province Hainan to start pilot cruise tourism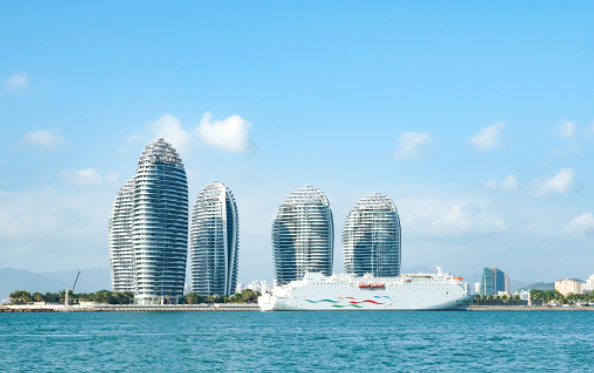 A view of Sanya Bay in Hainan province.(Photo: VCG)

The ports of Sanya and Haikou on tropical Hainan island will soon be ready to serve Chinese-funded cruises to nowhere, with flags of convenience, amid the growing trend of cruises for leisure.
While traditional cruise routes link land destinations, cruises to nowhere trace a unique itinerary without any specific destination at sea to allow passengers to experience a short-usually one or two nights-romantic, exciting and not always inexpensive cruise vacation on a floating resort at sea, experts said.
The Ministry of Transport said on its website that Hainan's Sanya and Haikou cruise ports have received approval to begin on pilot basis Chinese-funded cruises to nowhere, with flags of convenience.
Flag of convenience cruises refer to those registered in an "open registration country", with low cost and tax, and flying the flag of that country.
The ministry encourages Chinese cruise enterprises to design a variety of nowhere cruises to accommodate various tastes and needs, such as watching sunrises at sea, sea diving and fishing, corporate leisure business trips and private gatherings. But lewd and gambling activities will be strictly forbidden.
The ministry said the pilot program aims to help Chinese residents cultivate cruise leisure consumption concepts, promote the construction of the Sanya cruise home port, and support the development of Hainan International Tourism Consumption Center, one of the four strategic goals set for the China (Hainan) Pilot Free Trade Zone, the largest in the country.
The Chinese-funded cruise operators should be legal representatives of domestic cruise transport businesses that own no less than 51 percent of the international cruise transport business, according to the ministry.
The ministry will delegate the authority on cruise route examination and approval to Hainan province. The Hainan Department of Transportation will be responsible for market access management of pilot cruise enterprises and cruise liners, and keep local authorities in charge of foreign affairs, tourism, public security, border inspection, customs, maritime and other relevant departments informed in a timely manner.
The ministry said pilot cruise enterprises should submit applications for prescheduled cruise to nowhere routes two months in advance, providing information on specific routes, times and voyage arrangements.
The policy will allow tourists to embark on cruises with their identification cards or entry and exit documents, "a breakthrough that will greatly simplify the embarking procedures," said Zheng Weihang, executive vice-president of the China Cruise and Yacht Industry Association.
Jiang Yiyi, director of the China Tourism Academy's International Tourism Development Institute, said the pilot program will explore ways to enrich and upgrade tourism products and optimize tourist resources in Hainan.
As more Chinese look for alternative experiences, cruises are becoming trendy because they offer relaxed luxury experiences or family fun. All major international cruise companies have entered the Chinese market.
"The domestic market demand will provide good support to the pilot program, which can be introduced to other parts of the country when sufficient experience has been acquired. The cruises themselves are attractive destinations for especially families to experience cruise culture, new science and natural views," said Jiang.
"Cruise enterprises and tourists are full of expectations on the new project, which will further broaden the room for tourism consumption," said Xie Xiangxiang, an associate professor of tourism at Hainan University. He said there will also be challenges in securing cruise liners, competitive prices and attractions that well combine cruise services with Hainan's unique maritime resources.
According to the Cruise Lines International Association in Washington, the number of Chinese travelers who have gone on cruises is expected to grow to 8 to 10 million by 2025. However, the Chinese market is still at an early stage of development, with a market penetration rate of 0.02 percent. In the more developed markets in Europe, typical penetration is 2 to 3 percent.
In April, a new policy made it possible for overseas yachts to enter waters off Hainan island and its adjacent scenic spots with temporary approval from the Hainan provincial authorities, the first province-level area to manage the entries directly.