Tourism nearly a tenth of global CO2 emissions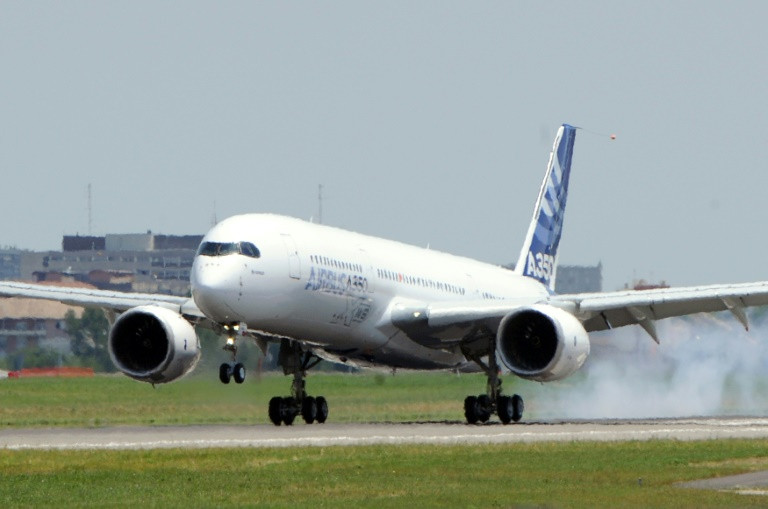 International travel accounts for a quarter of tourism-related carbon emissions, experts calculated (Photo: AFP)
Domestic and international tourism account for eight percent of greenhouse gas emissions, four times more than previously estimated, according to a study published Monday.
The multi-trillion dollar industry's carbon footprint is expanding rapidly, driven in large part by demand for energy-intensive air travel, researchers reported in the journal Nature Climate Change.
"Tourism is set to grow faster than many other economic sectors," with revenue projected to swell by four percent annually through 2025, noted lead-author Arunima Malik, a researcher at The University of Sydney's business school.
Holding the sector's carbon pollution in check will likely require carbon taxes or CO2 trading schemes for aviation, the researchers concluded.
As in past decades, the United States is the single largest emitter of tourism-related carbon emissions, with other wealthy nations -- Germany, Canada and Britain -- also in the top ten.
But burgeoning middle classes have moved emerging economies up the ranking, with China in second place and India, Mexico and Brazil 4th, 5th and 6th, respectively.
International travel involving long-haul flights is among the fastest growing sectors, and could threaten efforts to reign in planet-warming carbon pollution.
The total number of air passengers is expected to almost double by 2036 to 7.8 billion per year, according to the International Air Transport Association (IATA).
The aviation industry accounts for two percent of all human-generated C02 emissions, and would rank 12th if it were a country.
"We see very fast tourism demand growth from China and India over the past few years, and also expect this trend will continue in the next decade or so," Ya-Sen Sun, a professor at The University of Queensland Business School in Australia, and co-author of the study, told AFP.
"Besides the sheer population number, what's worrying is that people with a rising income tend to travel further, more frequently, and with a higher reliance on aviation."
- Stay close to home -
International travel accounts for a quarter of tourism-related carbon emissions.
Neither tourism nor aviation are currently covered by the 2015 Paris climate treaty.
In 2016, however, 191 countries struck a deal -- voluntary until 2027 -- under which the aviation industry would curb most of its greenhouse emissions after 2020 by diverting about two percent of its revenue to reforestation and other carbon-reducing projects.
The 197-nation Paris Agreement calls for capping global warming at "well below" two degrees Celsius (3.6 degrees Fahrenheit).
With only one degree of warming so far, Earth has seen a crescendo of droughts, heatwaves, and storms ramped up by rising seas.
Voluntary national pledges made under the Paris pact to cut CO2 emissions, if fulfilled, would yield a 3C world at best, say scientists.
"Our analysis is a world-first look at the true cost of tourism, including consumables such as food from eating out and souvenirs," said Malik.
Looking at its full "life cycle", the researchers calculated that carbon emissions from tourism increased 15 percent in five years from 2009 to 4.5 billion tonnes of CO2 equivalent, a measure that also takes into account other greenhouse gases such as methane.
On Monday, the UN's climate chief said during UN climate talks in Bonn that it was "in the interest" of the tourism industry cut its carbon pollution.
"A lot of what it is selling -– its products, if you like –- depends on the preservation, conservation and protection of the environment, and avoiding the worst impacts of climate change," Patricia Espinosa told journalists.
Curbing the growing appetite for tourism and travel may prove difficult.
"Behaviour change from travellers -- travel less, stay close to home, pay carbon offset -- are found to be slow and marginal," said Sun.
"Carbon taxes or carbon trading schemes can help to put extra pressure to speed the process."
A carbon pollution abatement that covered environmental costs, for example, would tack on an additional $425 (360 euros) to offset emissions from a round-trip flight from Sydney to London, the authors calculated.
"From the sustainability perspective, a restricted travel style may be required," said Sun.