Group cruise liner tourists to visit Hainan visa-free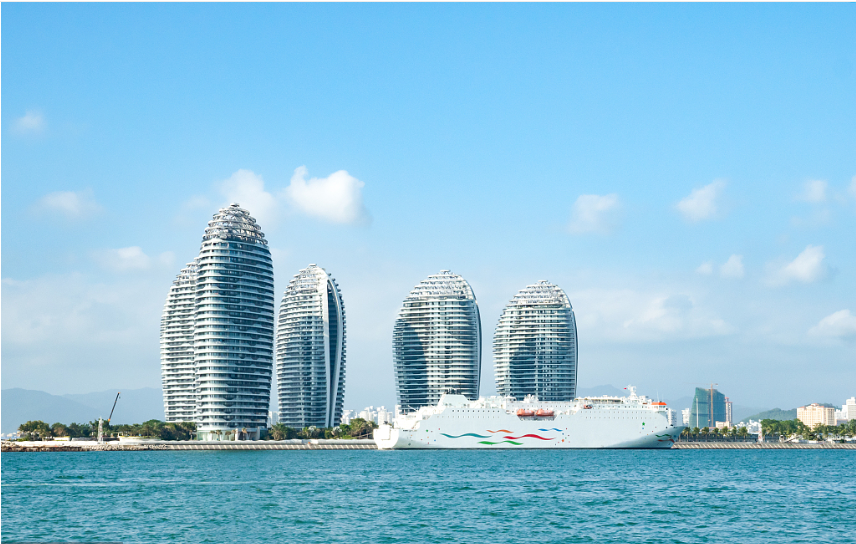 A view of Sanya Bay in Hainan province. (Photo: VCG)
Foreign group cruise liner tourists will be able to enter Hainan visa-free and enjoy a 15-day stay on the tropical island thanks to the new relevant policy issued last week, said officials with the local entry-exit inspection authority.
The Ministry of Public Security and the State Immigration Administration soon will introduce more detailed requirements and supporting measures regarding the visa-free entry policy for group cruise liner tourists coming to Hainan from overseas, according to a report from the Hainan Daily on Tuesday, which quoted Li Xue'en, head of the Haikou Entry- Exit Frontier Inspection Station.
Foreign tourists arriving in Hainan by cruise liner used to enter the island with a Chinese visa or apply in advance for a visa-free visit if they were citizens of the 59 nations that began to enjoy the visa-free policy introduced in May of last year.
Li explained that the new policy also will further simplify exit and entry procedures for yachts between Hainan, Hong Kong, and Macao, which will enable yachts from the two special administrative regions to sail between designated checkpoints in Hainan without having to complete entry procedures, as required before.
Last Wednesday, the Ministry of Public Security issued a set of new policies that are expected to make visa-free access to the tropical island province of Hainan easier and available to more people for longer periods.
According to the new policy, foreign visitors from the specific 59 countries will no longer have to book their trips in advance through travel agencies, and will instead be able to apply for visa-free entry on their own or through organizations that invite them to Hainan.
In addition, visit purposes eligible for visa-free entry will be extended from travel to include business and trade, family visits, medical treatment, exhibitions and sports competitions.
The policy changes will support development of the Hainan Free Trade Zone by providing greater convenience for people in high-tech, tourism and services sectors, according to Qu Yunhai, deputy director of the State Immigration Administration.