More diamond deposits found in Zimbabwe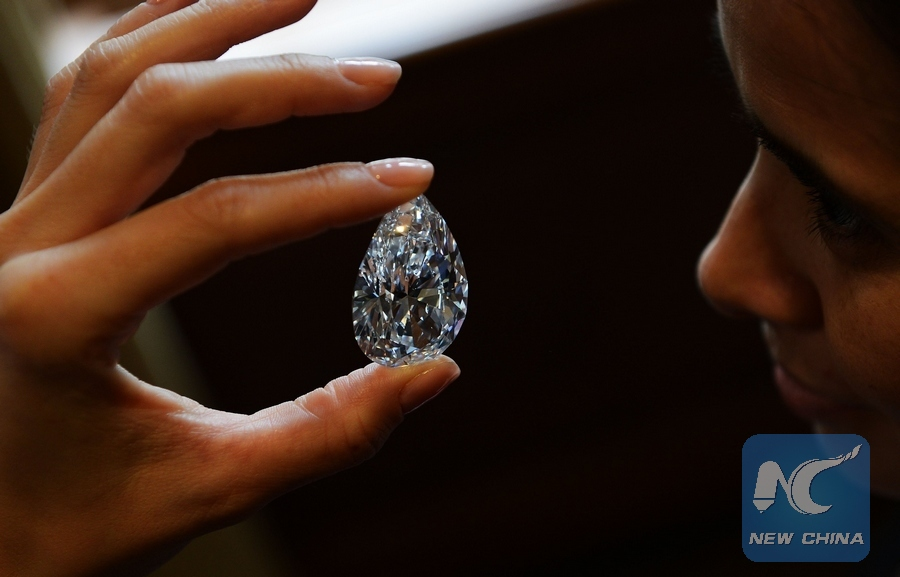 File photo shows a 101.73-carat diamond being displayed to the media at the Christie in Geneva, Switzerland, April 30, 2013. (Xinhua/Wang Siwei)
A Zimbabwean official has said rich diamond deposits have been discovered in southern Zimbabwe and will boost the fortunes of the country, state media reported.
Minister of State for Provincial Affairs for Masvingo province, Josaya Hungwe, told a press conference that the discovery of the diamonds was made in Chivi District, to the west of the province.
The Herald newspaper reported Wednesday that Hungwe said he had been briefed about the discovery of kimberlite pipes rich in diamonds.
"We have made it clear to investors who are interested in extracting the gems to come up with proposals on how they plan to exploit the diamonds and government will make a decision on how the diamonds will be mined," he said.
Chivi is a semi-arid area which is predominantly occupied by subsistence farmers.
According to empowerment laws seeking to uplift the lives of indigenous Zimbabweans, 51 percent of shareholding in diamond investment is reserved for locals.
Zimbabwe's diamond production has been declining over the years from about 12 million carats in 2012 with miners citing dwindling alluvial diamond deposits.
The country said last month it was talking with neighboring Botswana, which has a far more developed diamond industry, to assist it in adding value to its gems which are currently being sold in raw form.