Labor of love French chateau on market for $30 million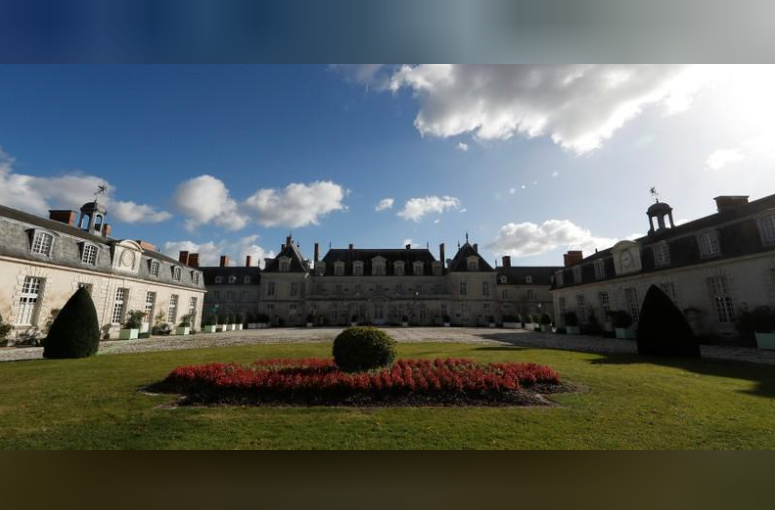 A view shows the front garden and the facade of the Chateau de Menars, near the Loire river, France, November 6, 2017. REUTERS/Gonzalo Fuentes
A vast 18th-century chateau on the banks of France's River Loire is likely to be sold for just a fraction of the amount a Middle Eastern businessman, inspired by his passion for a long-dead royal mistress, has spent restoring it.
Edmond Baysari, 83, a Lebanese-born, Monaco-based property developer, bought the Chateau de Menars in the early 1980s and has spent the past three decades painstakingly restoring it to its original glory at a cost of more than $100 million.
All the while he has been inspired by Jeanne-Antoinette Poisson, better known as Madame de Pompadour, the chief mistress of King Louis XV (1710-1774). She bought and embellished the chateau on a grandiose scale in the 1760s.
With 62 bedrooms, more than 12,000 square meters (130,000 square feet) of living space, elegant gardens that descend to the banks of the Loire and a cobbled courtyard large enough to land a helicopter, the chateau is any billionaire's dream.
The wine cellar has room for more than 30,000 bottles. Even more extravagantly, the property sports a wine-press that has never been used.
After decades of work on everything from the 18th century kitchen to the library and living spaces, Baysari has decided to sell.
That means dropping a project that has filled the best part of his life since he retired at 32 with riches made in real estate.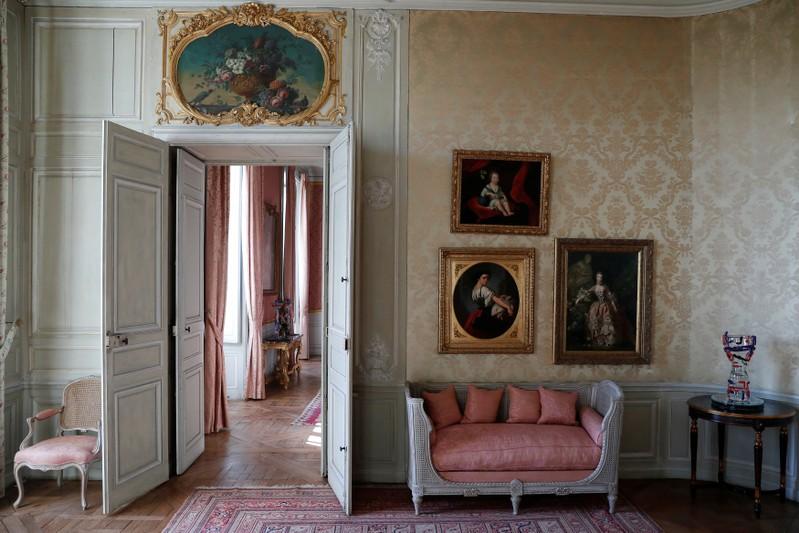 A painting "Portrait of Marquise de Pompadour, 1759" (R) by French painter Francois Boucher (1703-1770) is seen on a wall at the Chateau de Menars, on the Loire River, France November 6, 2017. Photo: REUTERS/Gonzalo Fuentes
The property magnate fell for the late de Pompadour as a young man, fascinated by her giddying rise to prominence, according to his lawyer Jack Anderson, the sale handler.
"She was a renaissance woman, and he's a renaissance man," Anderson said.
De Pompadour was a patron of the arts who expanded her palace with help from celebrated architects of the day, including Ange-Jacques Gabriel, who worked at Versailles.
Anderson expects a sale at between 20 and 30 million dollars, adding that his client is relaxed about a price tag that pales next to his investment.
"He realizes that destiny is going to take him - and hopefully he will be well-received by Madame Pompadour in the next world!"
Famous visitors in the chateau's heyday included Voltaire. In Baysari's time, they included U.S. President Ronald Reagan and Soviet leader Mikhail Gorbachev, whom he paired up for an informal summit. Others were rocker Mick Jagger and Britain's Prince Charles.
"His (Baysari's) goal is to know that it's in the hands of someone who's going to continue the beauty of the chateau and maintain it," Anderson said.
Whoever buys will need deep pockets. Current managers say it costs at least 450,000 euros a year to maintain.