Online visa applications smooth travel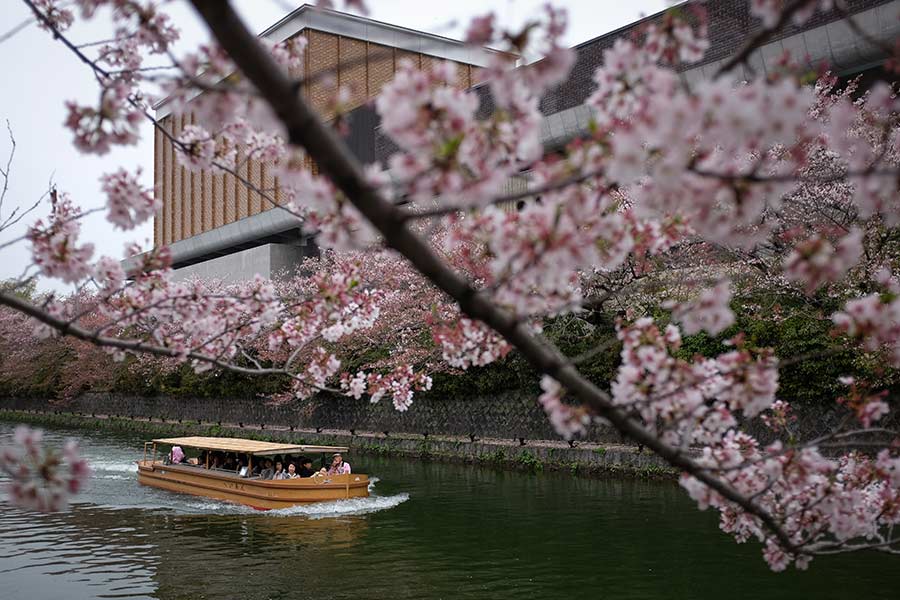 Tourists from China view cherry blossoms from a boat in Kyoto, Japan. (Photo: China Daily)
Increasing number of countries going digital when reviewing documents
An increasing number of countries have tapped into the convenience of e-visas to attract more tourists from China, the world's largest source of outbound tourists.
According to tourism insiders, the Japanese embassy in Beijing said on Thursday during a meeting with local travel agencies that it will launch e-visa services on May 1, allowing applicants to submit their materials online instead of sending paper documents.
"The embassy said that e-visa services may be available in consulates in other Chinese cities next year," said Han Zhisu, co-founder and CEO of 666visa.cn, a domestic platform where visa applicants can submit materials.
Chen Zeyong, CEO of online visa service tigerwing.cn, said the Japanese government issued 7 million visa stickers for Chinese nationals last year.
"If visas become a bar code or QR code emailed to applicants, their workload will be greatly lessened," he said during the Shanghai World Travel Fair on Thursday.
Japan Tourism Agency data showed that 8.38 million tourists from the Chinese mainland traveled to Japan in 2018, representing year-on-year growth of 13.9 percent and contributing nearly 27 percent of international tourists.
China has been the world's largest source of tourists since 2014, reaching nearly 150 million last year, according the Ministry of Culture and Tourism.
"The market potential remains huge," said Dai Bin, director of the China Tourism Academy. "Compared to the United States, where 48 percent of its citizens hold a passport, the figure in China is only around 10 percent. It's estimated that the number of Chinese outbound travelers will reach 230 million in 2030."
A report published by major Chinese travel agency Ctrip showed that 160 million Chinese people have travel plans during the upcoming four-day May Day holiday. Thailand, Japan, Vietnam, Taiwan and Indonesia are the top destinations outside the mainland.
Malaysia, which receives around 10 million Chinese tourists annually, began to issue e-visas for Chinese in 2017. "The number of visa stickers on passports of Chinese nationals dropped by 70 percent in the first year after the service was introduced, showing its high popularity," said Han.
Since last year, countries including Australia, New Zealand, Singapore, Turkey, Thailand and Sri Lanka have started to accept visa application documents online and issue e-visas, either a bar code or QR code.
"When more countries that are mainstream travel destinations launch such services for Chinese, more will follow suit," Dai said.
Industry insiders said that the rapid development of internet technology in China and people's heavy use of online shopping, mobile payment and banking services have allowed e-visa services to take root quickly in the country.
"Such services, which save the time and trouble of sending passports and paper documents back and forth, suit the young groups, who usually don't plan for a trip far ahead of time," said Li Ailing, founder of lvyouquan.com, which provides tourism information to agencies.