S China's Guangxi looks to sea to boost local tourism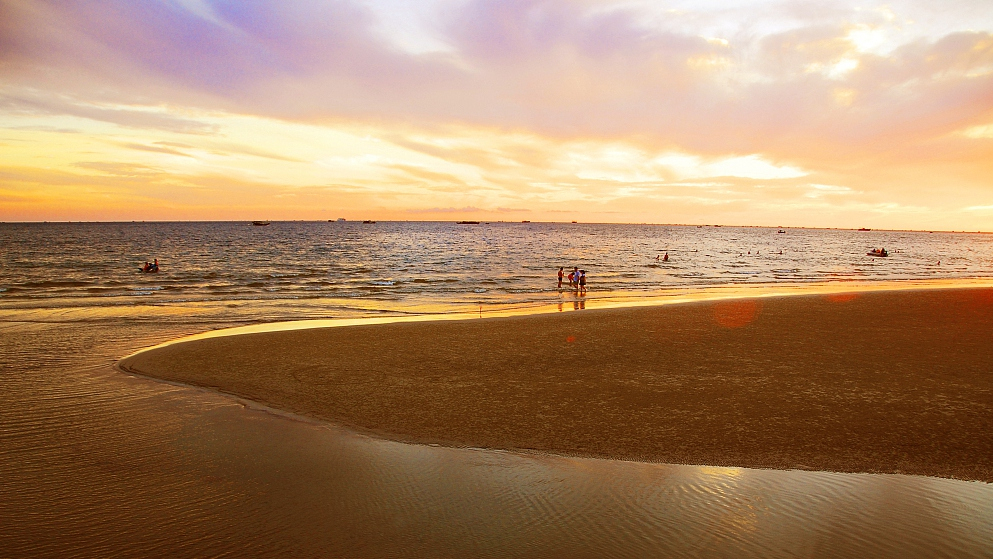 Beihai's silver beach at sunset, south China's Guangxi. (Photo: VCG)
The southern coastal area in Guangxi Zhuang Autonomous Region has turned its eyes to the sea, as it looks to ride the wave of the Belt and Road Initiative to further tap local tourism resources.
The area consists of six cities - including Fangchenggang, Qinzhou and Beihai - and has been put forward as Beibu Bay international tourist resort since 2016. The resort highlights coastal cities' features and insists on differentiated development among the cities.
By linking sea and land, China and Vietnam, the country bordering Guangxi borders, it aims to develop sea-related tourist products involving coastal relaxation, the pursuit of health and island vacations.
Last year, the number of visits to the resort reached 324 million, an increase of 28.1 percent over 2017, while tourism revenue went up 33.2 percent to 344.06 billion yuan (51.08 billion US dollars) in the same period, according to data unveiled by the regional government.
Next to Beihai's Silver beach, hosting many tourists from home and abroad every year, was the five-star hotel Crowne Plaza Beihai Silver Beach currently under construction. Its manager Tang Xinqian forecasts a promising future for the hotel.
He said the demand for accommodation in Beihai still needs to be satisfied, as potential visitors from mountainous cities like Chongqing and Sichuan would like to go to Beihai for a seaside tour and those in northeastern cities with cold winters also would be likely to choose Beihai to escape the frigid weather.
Beihai has bet big on high-end products for coastal tourism. According to Han Yunfei, deputy director at the city's culture, sports and tourism bureau, Beihai has absorbed investment in tourist infrastructure, theme entertainment projects, high-end hotels, health-related industries and airlines, among other sectors.
"Seaside tourism is always on the high-end trend. If Beihai wants to explore the new blue sea, it must have a plan for high-end products," he said.
Against the backdrop of the Belt and Road Initiative, in a southern county in South China's Guangxi, the area's historical status as one of the departure ports for the Maritime Silk Road in the Han Dynasty (206 BC-AD 220) not only makes the coastal town more well-known among the public, but also boosts local tourism.
"Carrying gold and silk, Han Dynasty fleets set sail at Hepu port to trade with countries in Southeast and South Asia, as far as India and Sri Lanka, exchanging goods for pearls, crystals, agate and amber," said Lian Shiming, curator of the Hepu Han Dynasty Museum, adding the valuable maritime cultural heritage could benefit more than the county's popularity, and promote Hepu's tourism as well.
A cultural and coastal tourism project began construction on April 19 in Hepu County, Beihai city, and it is based on the area's local history related to the Han Dynasty, Maritime Silk Road and Hepu pearls. With a total investment of 2.08 billion yuan, the 25.53-hectare project aims to build the area into a cultural, recreational and ecological tourism destination.
Liu Minkun, vice-director of the business school with Guangxi University and an expert in tourism, told China Daily that nowadays Hepu is working to tap its resources in heritage and culture and make them more visible to attract more visitors.
"The Beibu Bay international tourist resort has great potential to become a popular coastal tourism destination in and outside of China," said Gan Lin, director of the Guangxi department of culture and tourism.
The resort will develop into a coastal tourism destination for provinces including Yunnan and Guizhou, while gaining market shares in other countries, such as members of the Association of Southeast Asian Nations and those in South Asia and Europe, Gan said, adding Guangxi will further promote inbound tourism by providing more convenient policies in terms of exit-and-entry administration and tax-refund shopping for foreign tourists.