Stability boosts Xinjiang tourism
Global Times
1558299697000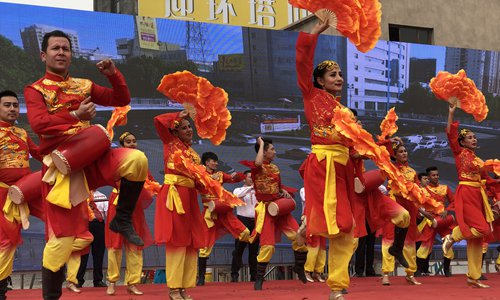 Dancers perform at the opening ceremony of the cultural and tourism festival on Saturday in Aksu Prefecture, Northwest China's Xinjiang Uyghur Autonomous Region. (Photo: Global Times)
Cities and prefectures in Northwest China's Xinjiang Uyghur Autonomous Region organized cultural and tourist activities to promote China Tourism Day on Sunday.
Fourteen cities and prefectures in Xinjiang promoted 187 activities, including 14 on red tourism, 16 on art and 49 promoting China Tourism Day, according to a WeChat account affiliated to the Xinjiang tourism development commission.
A cultural and tourist festival kicked off on Saturday in Aksu in southern Xinjiang.
Deng Xuanbin, head of the Aksu publicity department, said at the festival opening ceremony that Aksu was developing tourist resources as a historical city to promote cultural development and economy.
Shi Yunhai, an official from the culture and tourism department of Xinjiang, was quoted in a release by Aksu publicity department as saying that the festival and Taklimakan Rally, which is scheduled to be held from May 20 to June 3, in Aksu would help burnish the prefecture's image and attract more tourists.
The regional tourist industry recorded nearly 21.4 million trips to Xinjiang in the first quarter of 2019, yielding a tourist income of 24.441 billion yuan ($3.53 billion), Shi said.
One Aksu resident surnamed Zhang told the Global Times that the festival has been held many years but this year was the largest.
"The society is more stable and secure recently and that's maybe why so many residents came to attend the opening ceremony," she said.
There has been no violent incident in Xinjiang for more than two years. The stability benefited tourism and boosted employment opportunities, Xinjiang officials told the Global Times.
Other regional authorities in Xinjiang also ramped up tourism activities.
Hotan, a city in southern Xinjiang, organized residents to visit the house of Kurban Tulum, known for his work on unification of ethnic groups. Chairman Mao Zedong met Kurban twice.
Cultural and tourism authority promotions included discounts and free tickets for scenic spots and free public art performances.
Activities integrated tourism and culture, poverty alleviation work and tourism development, tourism and tours to revolutionary spots together, according to the WeChat account of the Xinjiang tourism development commission.
Guli Abulim, an official at the regional culture and tourism department of Xinjiang, was cited by the WeChat account as saying that holding tourism product fairs and promoting the tourism industry in poverty-stricken places could help alleviate poverty.