Tibet guards safety on highest mountain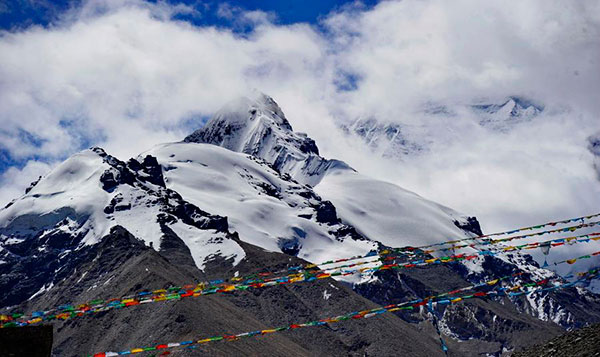 Photo shows the beautiful scenery of Mount Qomolangma. (Photo: Xinhua)
The safety of mountaineers in China's recently concluded Qomolangma climbing season, which saw 241 climbers scale the peak from the Chinese side, was ensured through good management practices, the government of the Tibet autonomous region said on Friday.
Twelve Chinese mountaineers, 21 Chinese guides, 94 foreign mountaineers and 108 Sherpa guides made it to the summit from April 10 to May 30, according to the Tibet Mountaineering Association.
Two alpinists, however, have become the victims on the north face of the mountain in Tibet's Dingri county, resulting from the extreme physical demands.
"Mountaineering is a high-risk sport, and safety is the priority," said Pema Trinley, the association's deputy director.
The region's measures for mountaineering safety management include controlling the number of climbers, limiting the climbing season, setting high requirements and maintaining the high-traffic climbing routes.
"Seasonally, since 2017, we have only allowed climbers on Mount Qomolangma in spring due to favorable weather conditions of the northern slope," Trinley said.
"Controlling the number of climbers is another key measure to ensure both mountaineering safety and ecological protection," he said.
In 2019, the north face routes had a total of 362 people, including 142 foreign climbers from 33 countries, 12 domestic climbers and 208 Nepali Sherpa mountaineering guides, the association said.
Within the last few years, the overall number of climbers has averaged 290, the association said.
"High requirements for mountaineering admission is another professional measure that relates to safety. Anyone without experience climbing mountains above 8,000 meters, and without adequate capability for independent movement is not allowed on Mount Qomolangma," he said.
Both overseas and domestic climbers must apply as part of a team, not personally, he said.
Tibet installed a new ladder in a section of the climbing route in 2017, and provided climbing ropes as long as 6,000 meters along the path between a section at 6,600 meters and the summit at 8,844 meters.
Cleanup efforts on the mountain involve both environmental considerations and climbing safety. The work has become routine, said Tashi Gyatso, the deputy secretary of the regional government.
"In 2018 alone, 8.5 metric tons of mountaineering-related trash was collected over the region's spring climbing season. In 2019, 8.21 metric tons of various domestic waste and 2.46 metric tons of sanitary sewage was collected after the mountaineering season," said Tashi Gyatso.
According to Nyima Tsering, the head of the region's sport bureau, the Tibet Mountaineering Guide School has been playing an important role in mountain rescue.
"Founded in 1999, it is world's second and China's first such school, for training mountaineering talent," said Tsering, vice-chairman of the China Mountaineering Association. "Teams from the school have performed 29 high-altitude rescues in recent decades, and have set the rescue record above 8,500 meters."