Interest in air travel perks up in response to Tuesday's super moon: Report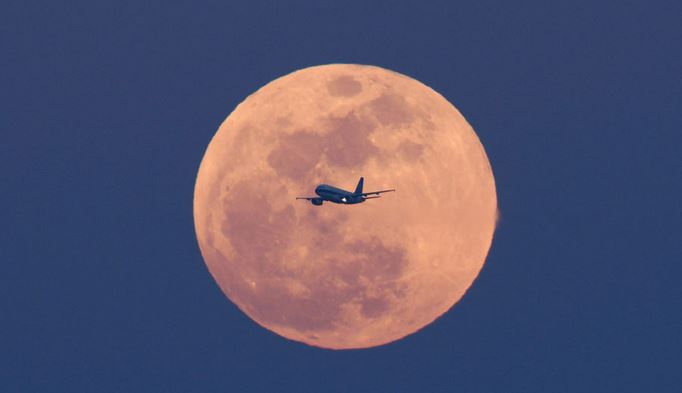 A plane flies over the blood "super moon" in Dalian city, Liaoning province, Jan 31, 2018. (Photo: IC)

As a super moon is forecast to emerge on Tuesday, many Chinese are considering altering their travel plans to enjoy the scene aboard a plane, China Youth Daily reported on Monday.
The moon will be at perigee at about 5 pm Tuesday, and the day also the Lantern Festival that marks the final day of the Chinese Lunar New Year celebrations, according to the Chinese Academy of Sciences' Purple Mountain Observatory in Nanjing, East China's Jiangsu province.
The earth-to-moon distance will be merely 356,000 kilometers, the shortest this year, the observatory said. That means Tuesday's full month will be the year's largest.
To better enjoy the spectacular scene, many airplane passengers seem to have considered adjusting their travel plans. According to Qunar, one of China's largest online travel service platforms, search traffic for flights on Tuesday has increased by 150 percent compared with the data for the Lantern Festival last year.
Flights that depart between 6 pm and midnight have been called "Moon Admiring Flights" by China Youth Daily. Flights from Haikou in Hainan province to Beijing are among the most searched, the newspaper said.
Qunar has suggested moon admiring passengers flying northward or southward choose seats on that will be on the east side of the plane while in flight. For passengers on east-west flights, seats on the right hand side are most desirable. Seats near the wings should be avoided.